Parachute Regiment (Paras) - Kosovo 1999
1999 - Kosovo - Operation Agricola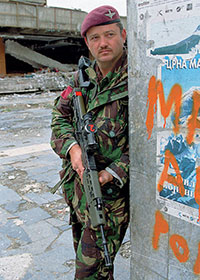 photo : NATO
Sunday June 6th - 1 PARA and part of 3 PARA (C Company) moved into Kosovo from neighboring Macedonia as part of the NATO Operation Joint Guardian (UK Op Agricola). NATO intervened in Kosovo in response to a humanitarian crisis precipitated by Serbian military action in the region
The Paras, as part of 5th Airborne Brigade, along with 1 Gurkha Rifles, were airlifted by Chinook and Puma helicopters to secure the one road to the Kosovo capital, Pristina, including the Kacanik pass. Sappers from 9 Independent Parachute Squadron Royal Engineers supported the PARA operations, checking bridges and tunnels for explosives and booby traps left by withdrawing Serbian forces. NATO armour would soon move along the Kacanik road that the Paras had secured.

Road to Pristina, Kosovo (google earth kmz file)

Pristina, Kosovo (google earth kmz file)
The Paras were later to assist in peace keeping operations in Kosovo, including the marking of suspected mass grave sites around Kacanik and patrolling around Pristina. The Paras also negotiated with the Kosovo Liberation Army (KLA) to ensure the safety of Serbian civilians who had remained in Kosovo.
14/6/99 - A Serbian special policemen was shot dead in Pristina by a paratrooper from 1 PARA. The man, in plain clothes was brandishing a pistol close to a 1 PARA patrol. Repeated calls from the Paras to drop his weapon were ignored and the man was eventually shot when he fired in the general direction of the patrol.
12/7/99 - During peacekeeping operations in Pristina, troops from 1 PARA shot dead a KLA member who had been firing an AK47 in celebration as he was driven through the capital. 2 other men in the car, which failed to stop when ordered to do so by the Paras, were injured in the shooting. A British Army investigation cleared the Paratroopers from any wrongdoing.