CO19 (SO19) - Equipment
CO19 make use of some highly specialised bits of kit.
Kit and Clothing
CO19 officers have access to standard policing kit incluindg handcuffs, mace/pepper spray and batons. Specialist Firearms Officer (SFO) units source much of their assault equipment from the same manufacturers as the SAS do, making a fully kitted-up SFO policeman look almost identical to an SAS CT trooper. Typical clothing/kit include:
dark blue Nomex fire-resistant overalls
ceramic / kevlar body armour
assault vest with stun grenades, tear gas cannisters and magazine pouches
S/SF-10 respirator
C100 ceramic helmet.
Vehicles
BMW Area Car (5 Series)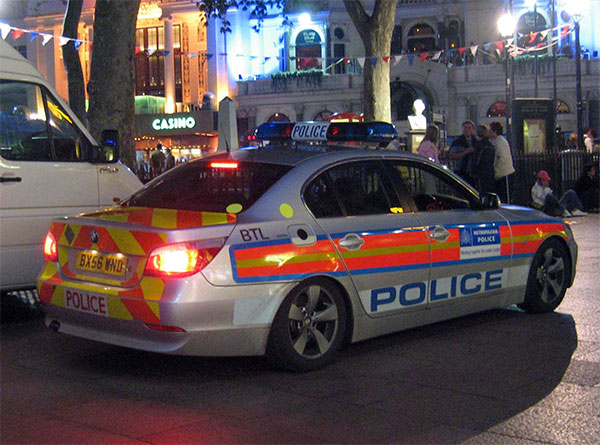 Used by CO19 ARV (Armed Response Vehicle) and other Met Special Operations units, BMW Area Cars are fitted with GPS navigation and secure communications equipment.

Jankel TIV
The Met operates several Jankel armoured Guardian TIV (Tactical Intervention Vehicles), large 4x4s which feature bullet-proof windscreens & blast-proof flooring. Up to 8 CO19 SFO operators can be accomodated inside each vehicle.
more info on the Jankel TIV
(Official Jankel website)
Unmarked Cars
CO19 SFOs will make use of unmarked cars as and when required by a particular operation.