59 Independent Commando Squadron Royal Engineers
59 Indep Cdo Sqn RE is made up of volunteers from the British Army's Royal Engineers and form a key part of 3 Commando Brigade. Their main role is to provide combat engineering support to the brigade. This includes the construction or destruction of fortifications, bridges and roads, the laying and clearing of mines and neutralizing IEDs. The Sappers of 59 Indep Cdo Sqn RE go through full commando training, including the All Arms Commando Course, and can be drawn on to perform the traditional infantry role.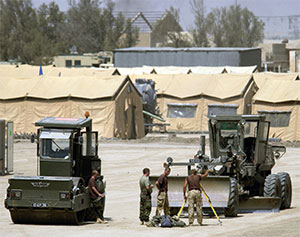 US DoD photo by: SSGT SHANE CUOMO, USAF
59 Indep Cdo Sqn RE Organization
The Squadron consists of a Headquarters(HQ) element, a reconnaissance troop, 3 field troops, a support troop and a REME workshop.

Field Troops operate alongside other 3 Commando Brigade elements, carrying out combat engineering tasks.

Reconnaissance Troop often deploys in 4-man teams alongside the Brigade Reconnaissance Force (BRF) with the aim of identifying future engineering tasks. As with BRF Marines, Reconnaissance Troop are parachute trained.

Support Troop looks after the vehicles required by the other troops, including tractors and bulldozers. Support troop divers can carry out underwater engineering / demolitions tasks down to 50 meters.


59 Indep Cdo Sqn RE Training
The men in 59 Indep Cdo Sqn RE Training go through full Commando training :
6 weeks Conditioning Package
4 weeks Pre Commando Course
*** update - 59 Indep Cdo Sqn RE has now been absorbed into 24 Commando Regiment ***
more info : 24 Commando Regiment