Rigid Raider CRAFT (RRC)
Rigid Raiders are small landing craft / patrol boats designed to carry a section of 8 Royal Marines Commandos into action. Rigid Raiders feature hulls made from sturdy Glass Reinforced Plastic (GRP) which makes them light and practically unsinkable. Older models had outboard diesel engines whilst the newer MK3 features an inboard 240 horsepower diesel.
The Royal Marines use rigid raiders for rapid beach and riverbank insertions and extractions as a coastal and river patrol boat. Army engineers also use Rigid Raiders. The Royal Marines are reported to be replacing many of their Mk3 Rigid Raiders with the new Offshore Raiding Craft (ORC). The SBS and SAS Boat Troops also use Rigid Raiders. Their lightweight construction means that a small team of men can carry the boats, even with engines attached. Rigid Raiders can also be air-dropped out to sea.
Rigid Raiders are manufactured by RTK Marine who are part of the VT group.
Rigid Raider Craft (RRC) Specifications
Mk1
Weight
0.87 tonnes
Length
5.2m
Speed
30 kts (fully laden)
50 kts (light)
Capacity
coxswain + 8 troops
or 2000 lbs of stores
Engine
1x or 2x 140hp outboard diesel motors
Mk2
Weight
1.31 tonnes
Length
6.5m
Speed
30 kts (fully laden)
40 kts (light)
Capacity
coxswain + 10 troops + 1500 lbs of stores
coxswain + 20 troops
Engine
1x or 2x 140hp outboard diesel motors
Mk3
Weight
2.25 tonnes
Length
6.5m
Speed
33 kts (fully laden)
38 kts (light)
Capacity
3 crew + 8 troops + 1500kg of stores
Engine
1x 240hp inboard diesel motor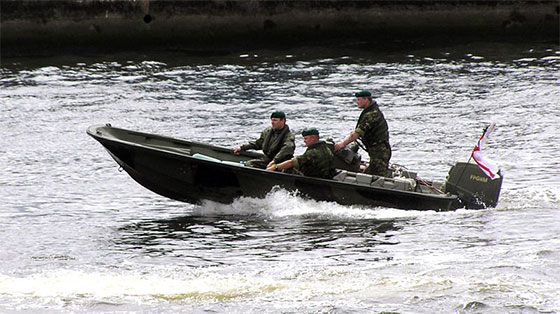 photo by: Finlay McWalter (used with thanks)