1 PARA (SFSG) Parachute Raids In Afghanistan
28.12.2010 - Paras have jumped into action in Afghanistan in recent months, marking the Parachute Regiment's first combat drops since the Suez crisis in 1956. Parachutists from 1 PARA (SFSG), the core component of the Special Forces Support Group, have parachuted into Helmand Province on Company-level raids against Taliban forces. The Paras use low-level parachutes to jump from from low-flying RAF C-130s.
Along with 1 PARA (SFSG), which is carrying out special operations, 2 and 3 PARA, with elements of 4 PARA are deployed in Afghanistan as part of 16 Air Assault Brigade for Operation Herrick XIII.
source : the daily mail
related info: 1 PARA (SFSG) were in the news in September when it emerged that several Paras from the unit had been injured when an RAF Hercules aircraft had accidently dropped them into trees during a training exercise.

more info : RAF dropped special forces into trees by accident
(the Telegraph)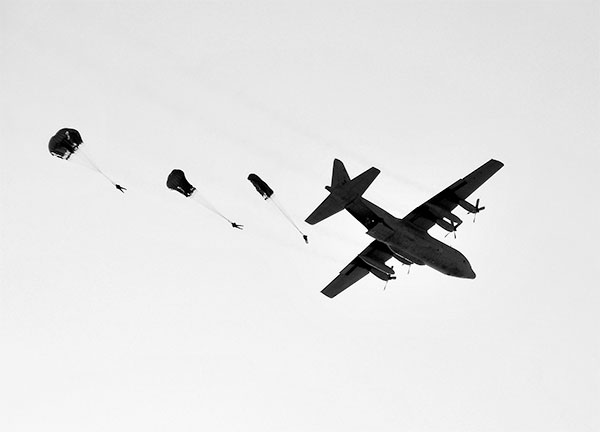 photo : US DoD
While most airborne operations in Afghanistan are heli-borne, parachute jumps, while rare, have happened:
In the first large scale action of the war, in October 2001, US Army Rangers parachuted into the desert southwest of Kandahar in order to seize an airstrip;
Members of 22 SAS Air Troop performed a HALO parachute insertion to prepare the way for Operation Trent;
Share this page:

SERIOUS ABOUT PASSING SELECTION? DON'T LEAVE IT TO CHANCE!
GIVE YOURSELF THE EDGE WITH THESE AFFORDABLE INSIDER GUIDES...