Police Firearms unit - SCO19
SCO19 is the Metropolitan Police Service's (MPS) specialist firearms unit. This elite cadre of highly-trained police officers are on standby to respond to any armed incident in London. Both men and women can join SCO19.
SCO19 has around 550 members, including training staff, TST, CTSFO and ARV units.
SCO19 was previously CO19, before that SO19. The Janaury 2012 merger between the Central Operations and Specialist Crime Directorate (SCD) branches to form Specialist Crime & Operations (SC&O) resulted in the unit's current designation of SC&O19 / SCO19.
ARV (Armed Response Vehicle) Officers
ARV units respond to spontaneous incidents involving firearms. There are some 280 ARV officers utilizing 13 Armed Response Vehicle, or 'Trojans', on the streets of London at any given time. To enable fast pursuit and arrival times, BMW cars, fitted with state-of-the-art satellite navigation and communications gear are the vehicle of choice for the ARV teams. ARVs will patrol known trouble areas, waiting to move in when needed. ARV units are usually crewed by 3 Armed Response Officers : driver, communications operator and observer/navigator. ARV officers are armed with Glock 17 pistols as standard. They also carry tasers. In the ARV car are 2 x H&K MP5SF 9mm and 2 x H&K G36C(SF) carbines.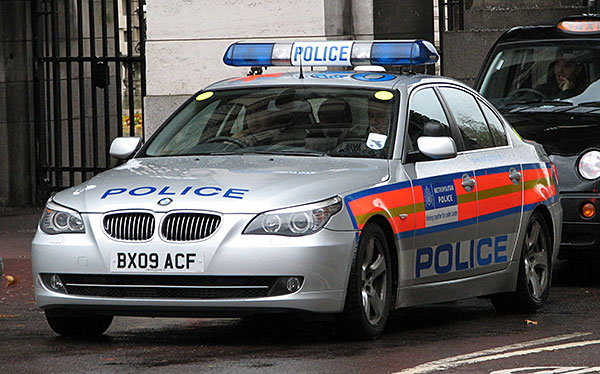 Tactical Support Teams
Tactical Support Teams (TST) consist of experienced ARV officers trained to provide support to other Met units. TSTs are a more proactive SCO19 element i.e. they tend to carry out authorised, pre-planned, intelligence-led operations. These may include performing high-risk arrests and raiding criminal establishments were the presence of firearms is suspected. They may be deployed as armed backup for operations by specialist Met units such as the Flying Squad and surveillance units. TSTs operate in both overt (uniformed) and covert (plainclothes) profiles.
Before the creation of TSTs, SCO19 consisted of ARV units and teams of Specialist Firearms Officers (SFO) (now CTSFO). TSTs freed up the SFOs from some operations. In terms of training and capabilities, the TSTs fall between the ARV and CTSFO teams.
CTSFOs (Counter Terrorism Specialist Firearms Officers)
CTSFOs, sometimes referred to as SFOs, are another proactive element of SCO19. Their role counter terrorism and hostage rescue. Like TSTs, CTSFO teams provide firearms support to other Met specialist units and may operate in both an overt and covert manner. CTSFO teams are on standby to respond to a terrorist or major crime incident both in London and at the National level.
The number of active CTSFOs is around 130 officers, organized into 7 teams. Each team consists of 1 Sergeant leading 15 Constables. CTSFO units may be called to storm buildings, planes, buses, trains and boats, both docked and underway. These operations requires that CTSFOs receive a higher level of training than the Tactical Support Teams. Like TST Officers, CTSFOs have served as ARV Officers before going through their own extensive selection and training process.
Training
SCO19 officers undergo extensive training.
read more : SCO19 training
Weapons
SCO19 employ a variety of lethal and non-lethal weapons, including sub machine guns and tazers
read more : SCO19 weapons
Equipment
SCO19 ARV and CTSFO units employ a selection of specialised equipment, ranging from gas masks to armoured vehicles.
read more : SCO19 equipment
Operations
As gun crime and terrorism in the capital rises, SCO19 have been involved in a series of operations
read more : SCO19 operations
want to join the UK Police? click here to find out how »
Share this page:

SERIOUS ABOUT PASSING SELECTION? DON'T LEAVE IT TO CHANCE!
GIVE YOURSELF THE EDGE WITH THESE AFFORDABLE INSIDER GUIDES...