Rigid Hull Inflatable Boat (RIB)
The Royal Marines, SBS and SAS Boat Troop use RIBs for a range of tasks.
RIBs have hulls made of Glass Reinforced Plastic (GRP) with inflatable rubber tubing around them to provide buoyancy. This design makes them light, fast and durable. It also means there is little protection for those on board. RIBs may be powered by outboard motors or in-board diesel engines.
Arctic 28 boarding boats.
These fast and sturdy 28 foot long RIBs are used by the SBS for Maritime Counter Terrorism ops.
Arctics have a gun mount at the bow that can be fitted with a HMG. Arctics can be transported on road via trailers, in cargo planes or even carried under slung and dropped into the ocean from RAF Sqn 7 Chinook helicopters

In November 2001, a combined force of SBS/SAS used Arctic 28s to storm the MV Nisha, a cargo ship suspected of carrying terrorists.


Pacific 22/24 seaboats
22 and 24 foot long RIBS, typically carried on Royal Navy ships and used for ship-to-ship transfers, rescues and shore insertions.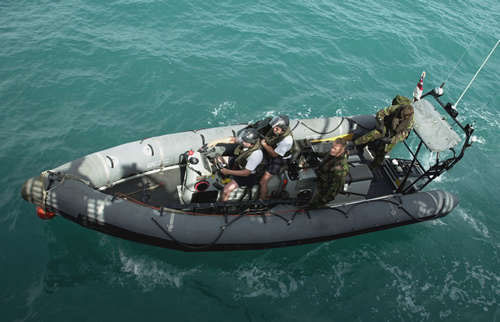 Share this page:

SERIOUS ABOUT PASSING SELECTION? DON'T LEAVE IT TO CHANCE!
GIVE YOURSELF THE EDGE WITH THESE AFFORDABLE INSIDER GUIDES...