Counter Terrorism
The following is a break-down of the United Kingdom's counter terrorist (CT) forces...
22 SAS
The UK military's primary counter-terrorism unit is the Army's 22nd Special Air Service. At any time, one full SAS Squadron (around 60 men), is on standby to respond to a terrorist incident. Squadrons rotate into the CT role on a six-monthly basis. The SAS wrote the book on rescuing hostages from buildings, planes, trains and vehicles.

more info : SAS counter terrorism

notable SAS CT operation : Operation Nimrod
Special Boat Service
The SBS has a dedicated counter-terrorist unit, designated M Squadron. M Squadron specialises in Maritime Counter Terrorism (MCT) and have developed techniques and equipment for the challenging task of carrying out hostage rescues on oil rigs, cruise ships, ferries and other maritime objectives.

more info : SBS counter terrorism

notable SBS CT operation : raid on MV Nisha cargo ship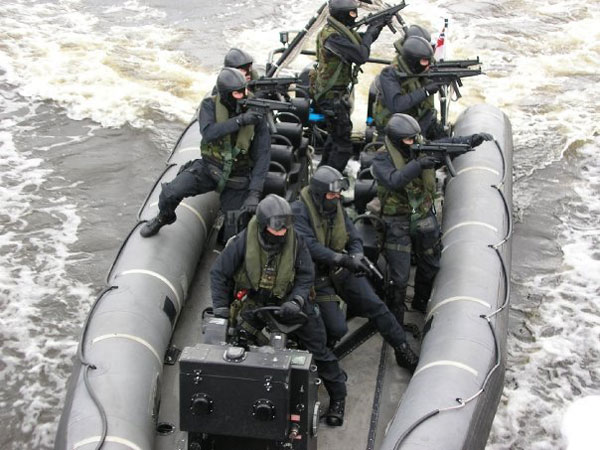 Special Forces Support Group
It is thought that members of the SFSG have been trained to carry out CT operations. In a typical scenario, such as a large scale CT operation, SFSG operators will augment the SAS/SBS. Members of 1 PARA are trained to work with the SAS while Royal Marines assigned to the SFSG from the Fleet Protection Group will augment SBS MCT operations, continuing a role previously assigned to their forerunners, Commachio Group.
Aviation Support
There are several RAF / AAC / RN units that are trained to insert / extract and otherwise support UKSF counter terrorism operations.
Intelligence Support
A vital component of any CT operation is intelligence. A successful assault on a CT objective requires detailed planning bases on intel on the objective itself, the terrorists, the hostages and a host of other information. UKSF includes a number of elements with the ability to gather such intel.
Police Counter Terrorism Units
In most domestic terrorist incidents it will be the Police who provide the first response. In the case of a siege scenario, specialist armed Police units will set up a secure cordon around the terrorist stronghold. If the situation demands it, such as if terrorist started killing hostages, and if military special forces have not yet arrived on the scene, then these armed Police units would intervene. One unit that receives a high level of CT training is the London Met's CO19. It's SFOs (Specialist Firearms Officers) have trained with 22 SAS and use many of the same equipment and techniques.

more info : CO19

Other Police CT elements include S015 Counter Terrorism Command which absorbs the former SO12 Special Branch (SB) and SO13 Anti-terrorist Branch (ATB) units. SO15's primary role is gathering intelligence and carrying out investigations related to terrorism. Intel provided by SO15 is often the catalyst for CO19 / UKSF operations.