Land Rovers
The Land Rover has been around since the late 1940s and there are up to 12,000 currently in service, in a variety of variants. It has been a popular utility vehicle that has off-road capability thanks to its 4-wheel drive.
The more common variants used by UKSF and other elite UK forces are:
defender XD
the defender XD, or 'Wolf' as it is nicknamed, come in 2 varieties: the more common XD 110 and the XD 90 which features a shorter wheelbase. The XD 110 'Wolf' is the basis for the WMIK Land Rover
'snatch' land rover
snatch Land Rovers were originally developed for use in Northern Ireland. Their design is based around a 4.0 tonne GVW Ricardo Land Rover chassis which has been fortified with composite armour. These Land Rovers have been deployed to Iraq and Afghanistan and are used for patrolling, troop and prisoner transports. Despite their armour, and electronic countermeasures specifically designed to deal with the threat, they are still vulnerable to road-side bombs.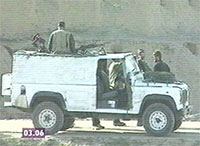 The SAS is famous for adapting various models of Land Rover for long range desert patrols and strike vehicles. SAS 110 Land Rovers were festooned with an array of weaponry and driven into the Iraqi desert during Operation Desert Storm. Unconfirmed reports state that the Regiment has replaced their 110s with Supacat HMT 400s, an armoured all-terrain vehicle.
The SBS was spotted driving white XD 110 Land Rovers around Northern Afghanistan in late 2001. An SBS unit was acting as a quick reaction force (QRF) for the region around the city of Mazar-i-Sharif. Their Land Rovers were painted white to make them look like civilian aid vehicles.
Both the Royal Marines and Parachute Regiment use XD-110/90s to transport men and supplies. Land Rovers can tow light howitzers and trailers stacked with supplies behind them. Both the Paras and RM have used the Snatch Land Rovers in Afghanistan. Shortcomings in both armour and off-road capability have led to a gradual replacement of the Land Rover with the Pinzgauer 4x4 truck.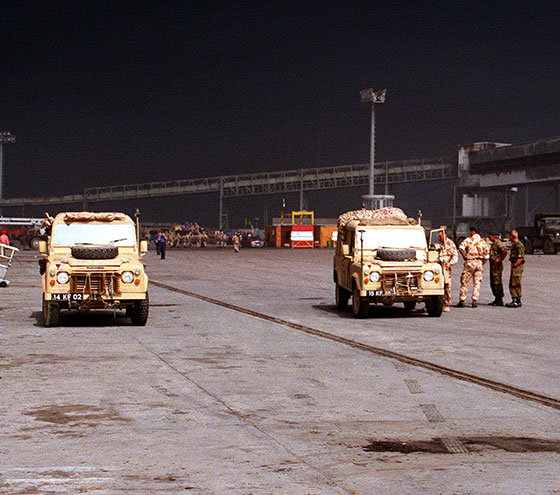 Photo courtesy US DoD
Land Rover (XD 110) Specifications
| | |
| --- | --- |
| Engine | Land Rover 300 Tdi engine 111 hp (83 kW) |
| Maximum speed | 160 kph on mettled road |
| Suspension | coil-springs |
| Weight | 1.6 tonnes |
| Max Range | 573km |