Offshore Raiding Craft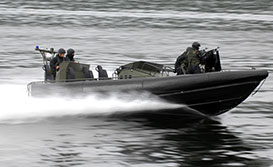 The Offshore Raiding Craft (ORC) is a relatively new addition to the Royal Marines' inventory. The ORC is designed for commando insertion/extraction and fire support missions along coastlines and river networks.
The 9 meter-long ORC has an aluminium hull with a low enough draft to allow for safe, rapid beach insertions. Unlike soft-skinned RIBs, ORCs have removable armour plating that offers ballistic protection (small arms up to 7.62mm) for the boat's occupants. 2 crew and up to 8 fully-equipped Royal Marines can be carried on a set of upright seats.
When in fire support configuration, the ORC can also carry an array of weaponry. Flexible mounts allow for combinations of:
The ORC can be air-transported inside C130 Hercules transport planes or carried as an under-slung load by Chinook and Merlin helicopters.
Up to 46 ORCs will eventually be in service with 539 Assault Squadron Royal Marines. It's not publicly known whether the Special Boat Service are/will be using the ORC.
The ORC is manufactured by Holyhead Marine
Offshore Raiding Craft Specifications
Engines
Twin Styer M256 high speed inboard diesels each developing 250Hp/184Kw at 4500rpm.
Speed
40 Kts - Lightship
36 Kts - Fully Loaded
Acceleration
0 – 30 Kts in 15 seconds
Range
200 nautical miles +
Fuel
Diesel fuel (Dieso) to Def Stan 91-4/6 NATO F76 & AVTUR (JP5).
Main tank 550 liters.
Reserve 90 liters.
Dimensions
Length : 9.1m
Width : 2.9m
Armaments
3 mounts for :
40mm GMG
7.62mm GPMG
.50 hmg

Smoke dischargers

Communications
Icom 601 VHF Marine Band, Military and HF radios.
Navigation
Raymarine C80 plotter with DGPS.
Share this page: