Famous Special Forces - Paddy Ashdown
Jeremy John Durham Ashdown, usually known as Paddy Ashdown, was born 27 February 1941 and is a well known and respected former politician.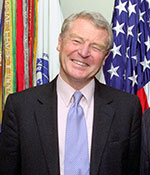 Paddy Ashdown joined the Royal Marines in 1959, serving in Borneo during the Indonesian Confrontation and in the Persian Gulf. He would later join the SBS (then called the Special Boat Section) and commanded a unit in the Far East. He would later return to the UK to command a Royal Marines company in Belfast.
He later left the Royal Marines and, for a short time, worked as an intellgence officer for the Secret Intelligence Service (SIS), more commonly known as MI6.
Ashdown joined the Liberal Party in 1985 and became its leader from 1988 to 1999. Ashdown was Knighted in 2000 and became Baron Ashdown of Norton-sub-Hamdon.
In 2002, Ashdown was appointed the EU's High Representative for Bosnia and Herzegovina, a post he held until January 2006.
Further Reading:
Lover, commando, spy - the making of Paddy Ashdown
Times online report, includes some interesting and funny anecdotes about Ashdown's service in the Royal Marines and SBS
A Fortunate Life: The Autobiography of Paddy Ashdown
---
---
---
SERIOUS ABOUT PASSING SELECTION? DON'T LEAVE IT TO CHANCE!
GIVE YOURSELF THE EDGE WITH THESE AFFORDABLE INSIDER GUIDES...