SA80a2 Assault Rifle
The SA80 assault rifle (L85) entered service in 1985, replacing the venerable L1A1 SLR as the British military's standard assault rifle. Chambered in standard nato 5.56x45mm, with a magazine capacity of 30 rounds, the SA80 and its ammunition was lighter and more ergonomic than its predecessor. Most front-line SA80s were fitted with SUSAT scopes, making for an accurate weapon.
Once fielded, it wasn't long before some problems became apparent with the SA80. Soldiers found that magazines would sometimes drop out of their rifles without warning. The weapon was also prone to jamming. Use of the SA80 in extreme climates showed up further shortcomings. Some of the plastic components of the gun would freeze, melt or break. In operations in Sierra Leone, 2000, members of the Pathfinder Platoon discovered that the safety catches on their SA80s failed in the heat, making their weapons useless. The SA80 is also a heavy gun, 1kg heavier than comparable 5.56mm assault rifles.
In recent years, the SA80 has been extensively modified by Heckler & Koch, the result being the SA80a2 (L85a2). The a2 addresses some, if not all of the shortcomings of the SA80 and has been successfully taken to war in Afghanistan and Iraq.
The SA80a2 comes in several flavours. The standard full-size rifle (SA80a2), a version with heavy barrel and bipod (the L86a2 LSW), a special carbine version (the SA80a2K) meant for tank and Apache gunship crews and a version with underslung 40mm grenade launcher (UGL).
| | |
| --- | --- |
| | |
| SA80a2 with 4xSUSAT sight | Light Support Weapon (LSW) fitted with iron sights |
| | |
| SA80 UGL | SA80A2K carbine |
The SA80 was trialed by the SAS and SBS but neither unit found it suitable, preferring to use the AR-15 family of rifles. UKSF may still use the SA80a2 when they need to look like regular forces.
Whilst elite units such as the Paras and Royal Marines are assigned the SA80 family of weapons, when they get the chance they also prefer to use C8 SFWs. M16a2s or C7s, as demonstrated by their use by the Pathfinder Platoon and Brigade Reconnaissance Force.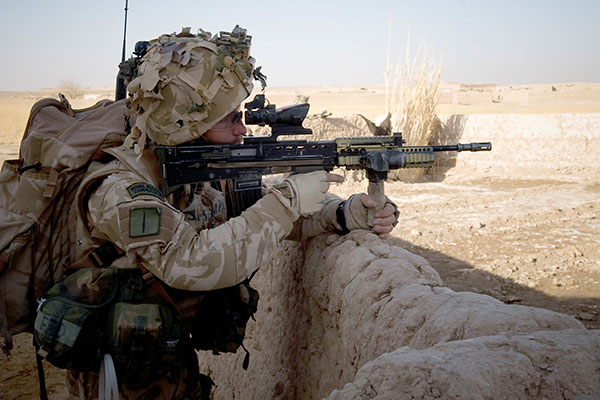 US Dod photo by Cpl. John Rafoss