Female Firearms Officer Shot Woolwich Suspects
23.05.2013
One of the Police Officers who shot the 2 suspects in the Woolwich terrorist attack is one of the few female members of the Met's elite firearms squad, SCO19. [1]
It was reported that around 14 minutes after the initial 999 call regarding the horrific murder of an off-duty soldier in the street by Artillery Place, near Woolwich Barracks, London, yesterday, armed police arrived and were approached by the 2 suspects who had seemingly made no earlier effort to flee. Both suspects were brandishing weapons, including knives, a cleaver and a revolver. Both suspects were subsequently shot and wounded by armed officers, one of which was believed to be a woman.
Specialist Firearms Command, designated as SCO19 (formerly CO19) is a branch of the Metropolitan Police Service. SCO19 fields Armed Response Vehicles (ARVs) which provide the first armed response to an incident such as the one in Woolwich yesterday. An ARV usually carries 3 SCO19 officers who are typically armed with G36 5.56mm carbines or MP5 9mm smgs, with Glock 17 9mm pistols as backup weapons.
SCO19 also deploys Specialist Firearms Officers (SFOs) who carry out pre-planned operations and a Rifle Section of marksmen who have a counter-sniper capability.
While women fill around 1 in 5 police roles, there are far fewer in specialist firearms units, such as SCO19. Despite this most recent incident, the presence of female officers at armed incidents can help to diffuse potential lethal situations.
Women in firearms units have not always had an easy time integrating into a traditionally macho environment. Only this week, a female firearms officer was awarded £20,000 in damages for suffering discrimination and harassment at the hands of fellow officers.[2]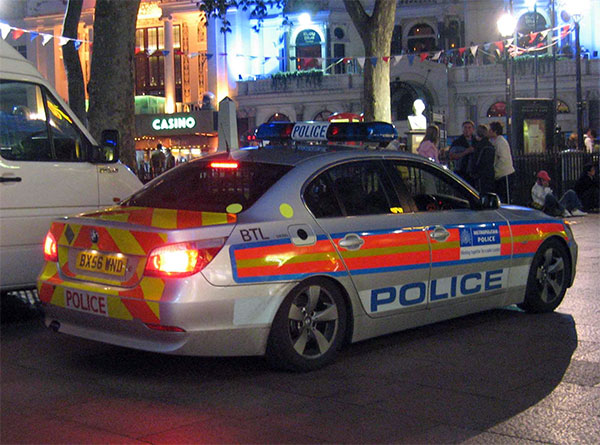 photo credit: Ronaldccwong (wikimedia commons) | released to public domain
more info / further reading: