Inflatable Raiding Craft (IRC)
Inflatable rubber boats, or 'Zodiacs', are primarily used for over-the-horizon clandestine insertions of small teams of Royal Marines, SBS or SAS troops. They are also used for patrols around harbors and operations along river networks.
IRCs are, as the name indicates, inflatable and can be stowed in deflated form onboard submarines or motherships and then inflated in minutes by foot or via a C02 tank. IRCs can also be pushed out the rear of Chinook helicopters in low hover over the water and recovered by driving up a Chinook's ramp when it has 'landed' on the water's surface.
IRCs are typically powered by a single 50 horse-power outboard motor. When more quiet movement is required, or of the engine fails, they can be paddled.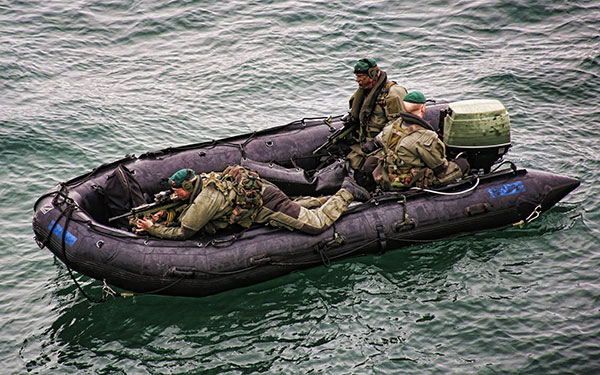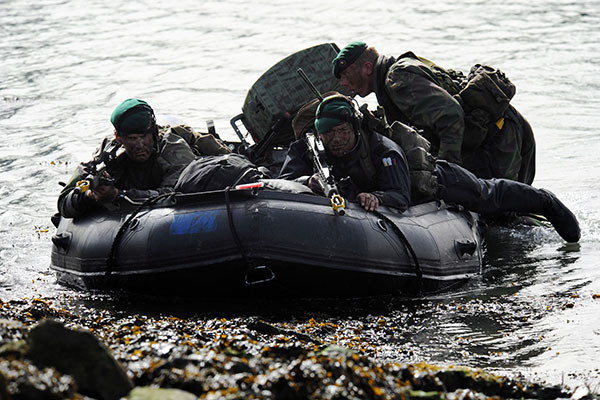 Inflatable Raiding Craft Mk2 Specifications
Maximum speed
20 knots sustainable for 2 hours
Capacity
5 fully-laden troops
Length
5 meters
Width
1.9 meters
Max payload
(inc fuel and engine loads)
1250 kg
More info / further reading