Squadron Reconnaissance Team (SRT)
Squadron Reconnaissance Teams (SRTs) are small teams deployed by the Amphibious Beach Unit of 539 Assault Squadron Royal Marines (539 ASRM). Their role is to perform beach reconnaissance ahead of an Amphibious Task Group landing.
A 6-man Squadron Recce Team uses various methods for inserting onto a beach. They may use inflatable raiding craft launched from a warship, submarine or helicopter or they may yomp in overland.
Once at the beach their role is to carry out a full beach reconnaissance. The beach, its approaches and exits, will be checked for suitability for an amphibious assault by various landing craft and amphibious vehicles. The SRT will also report on the presence and disposition of any enemy forces in the vicinity. The results of the beach recce are passed up to the Amphibious Task Group's planners in the form of a tactical beach report and surf report.
The SRT may also be called on to recce and mark out a helicopter landing site. If a Royal Navy Fleet Diving Unit is needed to clear mines from the approaches to the beach, the SRT will provide overwatch for the operation.
After completing the recce, the SRT remains at the beach and provides overwatch and terminal guidance as the amphibious landings take place. After the initial landings are complete, the SRT hands over the beach to other Amphibious Beach Unit elements and moves off to carry out its secondary role of general reconnaissance as part of the Brigade Reconnaissance Force (BRF). When operating in the BRF, the SRT is known as the Shore Reconnaissance Team or Shore Recce Team.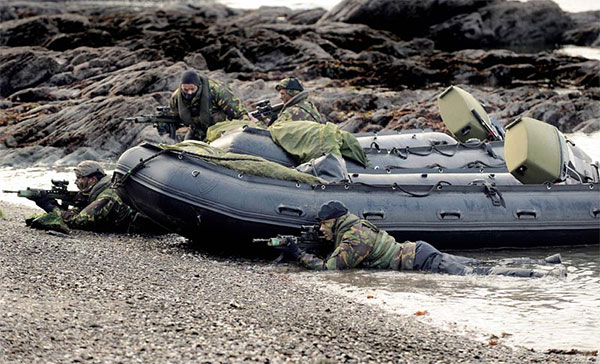 The Squadron Recce Team is a highly specialised role. Each Marine in the SRT is trained as a Reconnaissance Operator while the Corporals will have undergone the ISTAR Patrol Leader course and the Sergeants will have completed ISTAR Patrol Manager course.