Special Air Service (SAS)
The Special Air Service (SAS) is the British Army's most renowned special forces unit. From the moment several black-clad figures appeared on the balconies of the Iranian Embassy in London in 1980, the Special Air Service became 'celebrities' both at home and oversees. Their motto, 'Who Dares Wins', has become part of British popular culture.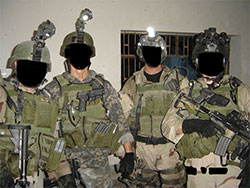 The Special Air Service section of Elite UK Forces features :
SAS Video
Special Air Service Organisation
The 22nd Special Air Service regiment (22 SAS) comprises of 4 active 'sabre' squadrons : A, B, D, & G, each made up of around 60 men. Each Squadron is made up of 4 troops with each troop specialising in certain areas of expertise.
| | | |
| --- | --- | --- |
| Air Troop | - | skilled in parachute insertions (HALO, HAHO, static line etc) |
| Boat Troop | - | specialising in amphibious operations |
| Mobility Troop | - | masters of operations using a variety of vehicles |
| Mountain Troop | - | expert mountaineers and trained in the disciplines of arctic warfare |
more info : 22 SAS organisation

2 reserve regiments, staffed by civilians, form 21 and 23 SAS. One of the more famous SAS alumni, author and member of the infamous Bravo Two Zero patrol, Chris Ryan, began his army career in the territorial SAS before passing selection for 22.
more info : SAS Reserves (SAS(R))
A small group of 22 SAS veterans and civilian volunteers make up L-Detachment, a reserves element attached to 22 SAS.
more info : L Detachment
SAS History
The Special Air Service was born in the African desert during World War 2 and has since carried out many operations.

more info : Special Air Service history
SAS Operations
The S.A.S. has carried out many operations over the years, including everything from counter-terrorist assaults in the glare of the media spotlight to covert operations in Northern Ireland. The SAS are currently deployed to Iraq (with the SBS assigned to Afghanistan). It's reported that the SAS Squadron in Iraq is operating as part of 'Task Force Black' - the British contingent of US-led Task Force 88, tasked with hunting down Al-Qaeda leaders in the country.

more info : SAS operations
SAS Selection
Only the best of the best need apply for the Special Air Service. The selection process is one of the toughest in any military worldwide and the vast majority of candidates fail it.

more info : SAS selection
click here for an affordable CD-Rom on passing selection for the SAS »
Special Air Service Training
The SAS are constantly training - learning new techniques and honing existing ones.

more info : SAS training
SAS Skills
A typical SAS patrol is just 4 men, each expert in at least one specialized skill and proficient in several others.
more info : 4-man SAS patrol and specializations
Roles
The Regiment has a wide range of responsibilities, each requiring specific training and disciplines :
Counter-Terrorism (CT)

One Sabre Squadron is responsible for counter-terrorism duties, with a team on a constant state of alert. The 4 squadrons rotate through this role on a 6 monthly basis.

more info : SAS - Counter-Terrorism

Intelligence Gathering

Sneaking into enemy territory to gather intelligence about troop strengths and movements is not as glamorous as leaping across embassy balconies but it is the bread and butter of special operations work. SAS recon teams must be able to remain hidden under the nose of the enemy for days on end, lurking concealed in dug out hides and on so-called 'hard routine' (no talking, no smoking, cooking etc). The Regiment trained to do this against the Russians but the techniques were used to great success in the barren hills of the Falklands and the hedgerows of Northern Ireland.

Forward Air Control

With the emphasis on air power in modern warfare comes a need for skilled forward air controllers : men on the ground calling in air strikes. In any S.A.S. team there's likely to be one trooper specially trained to communicate with attack aircraft and guide them in for a strike. Sometimes a laser designator will be used to 'paint' the target; other times the attack aircraft will be guided in verbally. The S.A.S. called in air strikes against Scud launchers during the 1991 Gulf War, against Serbian tanks in Bosnia in the 90s and against Taliban positions in the mountains of Afghanistan in 2001.

Target Attacks - Behind the lines sabotage

The Special Air Service regiment began its life in World War 2, carrying out daring sabotage missions behind German lines, first in North Africa and then in the European theatre. The modern day S.A.S. keeps up the tradition and are experts at infiltration deep into enemy territory, destroying fuel dumps, communication lines, bridges and railway lines.

Close Protection

The Regiment are masters at close protection duties (CP) - body guarding to the layman - having developed many of the protocols themselves. VIP protection is the responsibility of the Counter Revolutionary War (CWR) wing. Nowadays much of UK Military CP work is being done by specialised military police units.

more info : SAS close protection

Training Foreign Militaries

Over the years, the Special Air Service has shared their expertise with friendly nations, training their own special forces and bodyguards in the dark arts. Known as 'team jobs' within the S.A.S., the UK government gets both political and financial benefits from such arrangements due in part to the reputation of the regiment.
SAS Weapons
The Special Air Service has access to a wider range of weapons than the average UK squaddie.

more info : SAS weapons
264 (SAS) Signals Squadron
The 22nd Special Air Service are provided with communications and SIGINT support by 264 (SAS) Squadron of the Royal Corps of Signals.
Special Air Service Resources
SAS info :
SAS video :
External links :
Share this page:

GIVE YOURSELF THE EDGE WITH THESE AFFORDABLE INSIDER GUIDES...