Police Special Operations
There are several special operations and other elite units within the UK police service. These include:
photo by: Crispy tj
SCO19 Specialist Firearms Command
(formerly designated as CO19, before that SO19)
London's 'SWAT' unit. The Met's specialist firearms unit are highly trained armed police organized into SFO and ARV units.

more info : SCO19
SO14 Royalty Protection Branch
Armed bodyguards for the Royal Family.

more info : SO14
SO12 Special Branch (SB)
Special Branch's role has been to counter the threat of political violence and subversion. Within SB, a specialist protective unit, known as the A-squad, was charged with protecting high profile politicians and civil servants.
SO13 Anti-terrorist Branch (ATB)
The Met's anti-terrorist police, SO13 are on 24/7 standby to respond to a domestic terrorist incident. It regularly exercises with other police units such as SCO19 and with military units such as the SAS. SO13 includes explosives and ordnance experts whom can provided specialist support to other police units.
SO15 Counter Terrorism Command
In October 2006, SO12 & SO13 were merged into a central command, SO15, to better counter the threat of terrorism.
SO18 Aviation Security
Armed police units that patrol Heathrow and London City airport. Weapons include Glock 17 pistol, MP5sf carbine and G36c-sf carbine.
Other units designated with the SO (Special Operations) Prefix:

SO1 Specialist Protection
SO2 Department Support Group
SO3 Scenes of Crime Branch
SO4 National Identification Bureau
SO5 Miscellaneous Forces Index
SO6 Fraud Squad
SO7 Support
SO8 Forensic Science Laboratory
SO9 Flying Squad
SO10 Crime Operations Group
SO11 Criminal Intelligence Branch
SO14 Royalty Protection Branch
SO16 Diplomatic Protection Branch (now C06)
SO17 Palace of Westminster Division (now C07)
SO20 Forensic Medical Examiners Branch
Other specialized UK police units include:
Special Projects Unit
A specialist squad of 30 Met detectives tasked with countering the threat of contract 'hit men' and drug and firearms trafficking. The special projects unit includes undercover and armed officers.
Civil Nuclear Constabulary
The CNC are charged with guarding civilian nuclear sites (power stations, processing and storage plants) and shipments of nuclear materials. As such shipments make tempting targets for terrorists, CNC officers are routinely armed, sometimes very heavily. When escorting shipments at sea, CNC officers have reportedly been seen manning 30mm Oerlikons deck guns!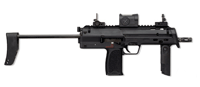 Ministry Of Defence (MOD) Police
MOD Police provide security for much of the UK's military industrial complex. This includes weapons factories, defence facilities, military housing and research centers. All MOD police officers are firearms trained. Weapons fielded by MOD Police officers have included the SA80 assault rifle, MP5 sub machine gun and browning 9mm pistol. These weapons have been gradually phased out in favour of the HK MP 7 PDW, a 4.7mm gun. The rationale behind this replacement is that it will be cheaper to train for and maintain a single weapon system rather than the more tradional rifle/carbine with sidearm arrangement.
want to join the UK Police? click here to find out how »
Share this page:

SERIOUS ABOUT PASSING SELECTION? DON'T LEAVE IT TO CHANCE!
GIVE YOURSELF THE EDGE WITH THESE AFFORDABLE INSIDER GUIDES...