Police Special Operations
There are several special operations and other elite units within the UK police service. These include:
SCO19 Specialist Firearms Command
(formerly designated as CO19, before that SO19) London's 'SWAT' unit. The Met's specialist firearms unit are highly trained armed police organized into CTSFO, TST and ARV units.

more info : SCO19
SO18 Aviation Security
Armed police units that patrol Heathrow and London City airport. Weapons include Glock 17 pistol, MP5sf carbine and G36c-sf carbine.
Protection Command
The Met's Protection Command fields armed close protection officers and other armed police in order to protect VIPs. The Command includes:
Royalty Protection Group (S014) - Armed bodyguards for the Royal Family
Specialist Protection (SO1) - Protects the PM and other VIPs
Diplomatic Protection Group (S06) - Protects diplomats and Downing Street
more info: Protection Command
British Transport Police Specialised Firearms Unit
Providing armed patrols at railway stations.
more info : BTP Firearms Unit
Civil Nuclear Constabulary
The CNC are charged with guarding civilian nuclear sites (power stations, processing and storage plants) and shipments of nuclear materials. As such shipments make tempting targets for terrorists, CNC officers are routinely armed, sometimes very heavily. When escorting shipments at sea, CNC officers have reportedly been seen manning 30mm Oerlikons deck guns!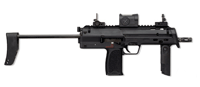 Ministry Of Defence (MOD) Police
MOD Police provide security for much of the UK's military industrial complex. This includes weapons factories, defence facilities, military housing and research centers. All MOD police officers are firearms trained. Weapons fielded by MOD Police officers have included the SA80 assault rifle, MP5 sub machine gun and browning 9mm pistol. These weapons have been gradually phased out in favour of the HK MP 7 PDW, a 4.7mm gun. The rationale behind this replacement is that it will be cheaper to train for and maintain a single weapon system rather than the more tradional rifle/carbine with sidearm arrangement.
want to join the UK Police? click here to find out how »
Share this page:

SERIOUS ABOUT PASSING SELECTION? DON'T LEAVE IT TO CHANCE!
GIVE YOURSELF THE EDGE WITH THESE AFFORDABLE INSIDER GUIDES...