Blighter Portable Ground radar
In July 2008, the Register reported that the Ministry of Defence (MOD) had put in a rush order for a number of portable ground radar units for use by British special forces.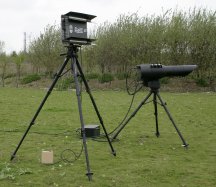 The Plextek Blighter E-scan ground radar uses its doppler radar to detect moving ground objects including vehicles on roads and enemy troops crawling along the ground. The detection range is believed to go from 20 meters out to 8 kilometers. The radar filters out static objects and displays tracking information on a laptop's display, with the returns usually overlayed on a map of the area. The radar unit includes a GPS device so it can pinpoint the location of a moving object.The various components of the system can be linked together via various communications protocols to form a surveillance network. Power is provided by lightweight batteries which have the capability of being recharged via solar-power. The basic scanner system weighs only 15kg and is designed to be carried in a backpack.
It has been speculated that, given their role in providing secure perimeters for UKSF operations, the Special Forces Support Group (SFSG) are the UK special forces unit most likely to deploy a radar security system. There has been no official MOD confirmation of the Blighter's use by special forces.