43 Commando Switches to C8 Carbine
04.03.2016
43 Commando, the Royal Marines unit that protects the United Kingdom's nuclear deterrent and combats pirates and smugglers, has replaced its SA80a2 (L85A2) rifles with Colt Canada C8 (L119) carbines.[1]
The C8 had been in limited used by 43 Commando already but it is understood by IHS Janes that the Ministry of Defence (MoD) bought a further 300 of the Canadian-made carbines as part of a re-equipment effort that was completed at the end of 2015. The C8 is now 43 Commando's standard weapon.
The unit is the first outside of the Special Forces to completely drop the L85A2 in favour of the L119A1. Aside from United Kingdom Special Forces (UKSF), the L119A1 is in various degrees of use by 16 Air Assault Brigade's Pathfinder Platoon and the Royal Military Police Close Protection Unit. The Special Forces fleet of L119A1s were upgraded to L119A2 standard in 2013.
According to the IHS Janes article, the L119A1 was adopted by 43 Commando due to its "reduced ricochet, limited collateral damage" features. This may be a reference to the L119A1 carbine's ability to reliably cycle special low-velocity, frangible 5.56x45 mm ammunition. This requirement is likely due to 43 Commando's specialist role, which includes fielding recapture tactics teams and specialist ship boarding teams, both of which operate in a CQB environment. The L85A2 rifle (and the L22A2 carbine variant) are also both chambered for 5.56x45mm rounds, but it may be that they do not handle low-velocity cartridges as reliably as the L119A1.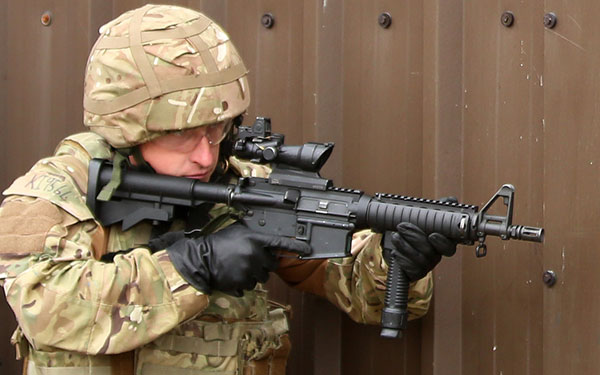 U.S. Marine Corps photo by Master Sgt. Chad McMeen
More info / further reading: