Special Forces C-130K - Hercules
RAF 47 Squadron Special Forces flight operated C-130K Hercules C.1 and C.3A transport aircraft in support of UKSF operations. The C.3A was a 'stretched' version of the C.1, with a longer fuselage. 47 Squadron operated the last few K models in RAF service until they were eventually retired in 2013. The squardon now uses a number of C-130J aircraft in the special operations role.
Up to 4 heavily armed SAS Land Rover 110s could be carried in the cargo hold of a C-130K. SAS/SBS troops could also be parachuted from Hercules flying at high altitude (HALO & HAHO), whilst SBS teams could be dropped out to sea, along with their rigid inflatable boats (RIBs).
RAF SF Hercules were equipped with a defensive aids sub-system (DASS), designed to detect and protect against SAMs (Surface-to-air missiles). The DASS consists of:
AN/AAQ-24(V) Nemesis directed IR countermeasures (DIRCM)
AN/AAR-47 electro-optical missile warning system

AN/APR-39A Radar Warning Receivers
3x AN/ALE-40 chaff/flare dispensors on either side of the lower nose
In addition to the defensive avionics, SF Hercules were also fitted with a suite of sensor systems as part of a Enhanced Vision System upgrade:
SIGMA Thermal Imaging system
(in a Titan 385 turret under the aircraft's nose)
Low Light Level Television (LLLTV) camera
(in a fixed array above the nose)
These sensor packages allowed the SF Hercules to better operate at night and in poor weather conditions.
RAF SF Hercules can also accommodate an array of classified listening gear which allows 47 Sqn to fly SIGINT (SIGnals INTelligence) missions.
Other advanced avionics found in SF flight Hercules included:
Honeywell 764G GPS/INS navigations system
QinetiW advanced mission computer
Flat Panel avionics displays
Goodrich Sensor Systems digital air data computer
Additional flight deck armour was later added to protect the crew from ground fire.
photos of 47 Squadron Special Forces C-130 C.1s :
(courtesy of airliners.net - used with thanks)
Related video:
C.1 Hercules Specifications
| | |
| --- | --- |
| Crew | Five (pilot, co-pilot, 1 navigator, flight engineer and loadmaster) |
| Cargo capacity | 64 fully-equipped parachutists |
| Maximum speed | 602 kph |
| Range | 2,047 nm (3,791km) fully payload; 4,522 nm (8,375km) empty |
| Max takeoff weight | 70,307 kg |
| Defences | DASS defensive aids sub-system |
| Armament | none |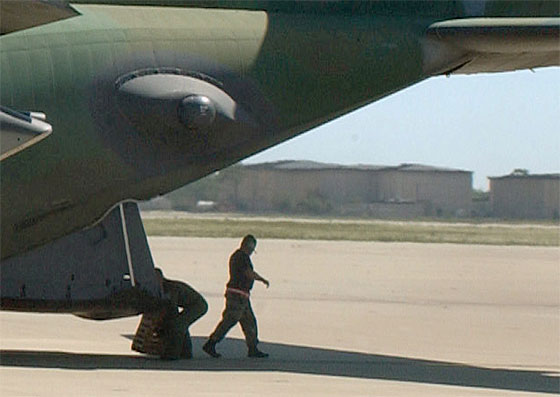 DoD photo by: A1C KIMBERLY GILLIGAN, USAF