Ultra Compact Individual Weapon (UCIW)
Around 2010/2011, British Special Forces held trials to select a compact weapon for specialised use by United Kingdom Special Forces (UKSF) troops. They were looking for a 5.56x45mm NATO-chambered weapon with a maximum length of of 22 inches / 55.8cm. The design was to be designated as the Special Forces Ultra Compact Individual Weapon (UCIW).
Several arms manufacturers submitted designs for the UCIW trials. LWRC International, a U.S. company, eventually won the UKSF UCIW contral, seeing off competition from others such as Heckler & Koch, who offered the HK41C, a compact version of the HK416.
The LWRC International UCIW is a highly compact variant of the tried and tested Armalite AR-15 design. AR-15s have a buffer tube design that extends to the rear. The length of this tube puts a lower limit on the length of stocks that can be used. The UCIW features a custom shortened buffer tube and action spring design that enables reliable cycling of 5.56x45mm NATO rounds while allowing for a very short overall length. The weapon features a 7-inch barrel. With the stock fully collapsed the UCIW is only 22 inches long.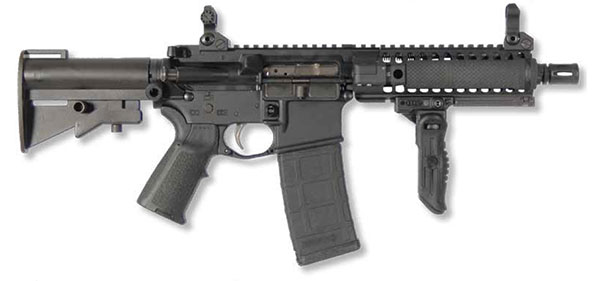 photo: LWRCI
Accessory rails allow for the mounting of scopes, grips, lights and laser devices. Suppressors can be used if required. UCIWs spotted being carried by UKSF in Afghanistan have featured Surefire suppressors and either Aimpoint Micro red dot or EO Tech holographic sights.[1]
The UICW is designed to used by UKSF soldiers working in specialist tasks such as close protection, covert reconnaissance, working with combat dogs, signallers, medics, operating in in vehicles etc.
UCIW Specifications
| | |
| --- | --- |
| Calibre | 5.56x45mm NATO |
| Weight | 6.25lbs / 2.8kg |
| Barrel Length | 7" / 17.78cm |
| Length | 22" / 55.8cm (stock collapsed) |
| Rate Of Fire | Semi-auto; select fire 600 rpm (+/- 100 rpm) |
| Rifling | 1/7" right-hand twist |
| Pistol Grip | Magpul MIssion ADaptable (MIAD) |
| Sights | LWRCI flip-up front and rear back up iron sights |
| Magazine | 30-round standard M16/M4 magazines |
| Muzzle Device | A2 flash hider 5.56 - 1/2 - 28 TPI |
More Info / Further Reading