'SAS Dog' Captured By The Taliban
06.02.2014
A military working dog, believed to have been working for the SAS, has been captured by the Taliban.[1]
Early reports indicated that the dog, captured after an operation in December last year, belonged to US forces. It now appears that the dog, who's name is 'Colonel', was in fact lost during an operation by British Special Forces.
A British Special Forces soldier, Captain Richard Holloway, 29, believed to have been serving with the Special Air Service, was reportedly killed during an operation that took place in Laghman Province. The date of this operation, which appears to have been a raid on a Taliban base, coincides with when the dog was captured.
Military working dogs can be used for sniffing out explosives, weapons or narcotics. They can also be fitted with miniature video cameras and microphones for surveillance and search and rescue operations.
The Taliban released a video in which they paraded the captured dog and displayed a GPS tracking device and light supposedly found on its person. They also showed off a number of weapons of the type used by western special forces, which they claimed were captured at the same time as the dog. (scroll down for video)
Unfortunately, given the Taliban's general disdain for dogs, Colonel's future, once all propaganda value from his capture has been used up, does not look good.
Update: (08/02/2013) Perhaps the outlook for Colonel is not so bleak as initially feared: Taliban says fate of captured British military dog still undecided (The Telegraph)
The Telegraph : "(Taliban) Spokesman says 'Colonel' is being well-treated and that the militants might be open to releasing or trading the dog, though no decision has yet been made."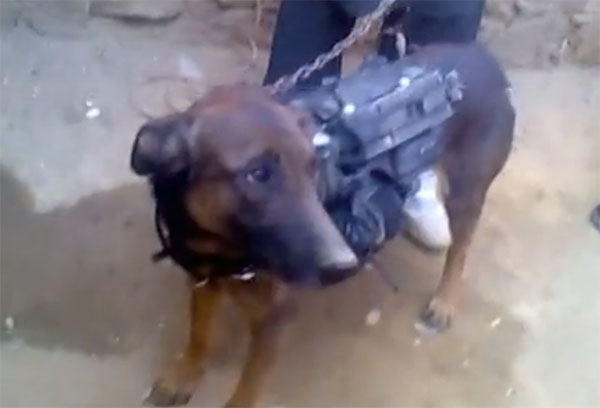 Related Video
more info / further reading: