New Maritime Operations Role For 42 Commando
19.04.2017
42 Commando is to be given a new maritime role, it has been reported.[1]
The Plymouth-based unit will be reconfigured as a Maritime Operations Commando (MOC). The MOC will carry out maritime interdiction operations and force protection for Royal Navy and Royal Fleet Auxiliary vessels. It will also have a counter terrorism role.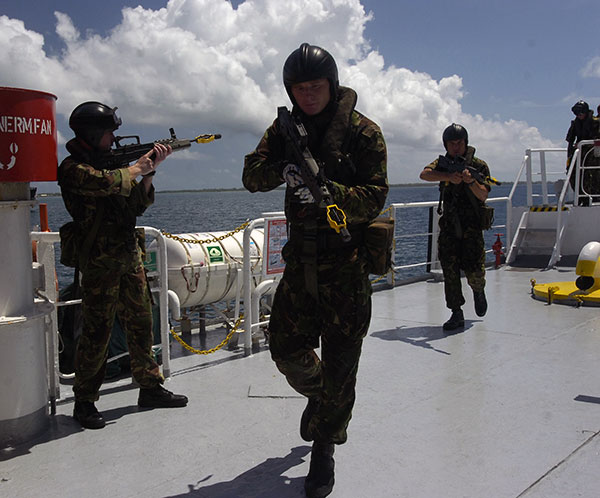 Maritime interdiction includes the boarding and searching of vessels and maritime installations. This may be undertook as part of counter piracy or counter-narcotics operations.
Astute readers will realise there will be some overlap between 42 Commando's new role and some elements of 43 Commando. S Squadron of 43 Commando are currently the go-to maritime interdiction specialists. They field Maritime Sniper Teams, Fleet Standby Rifle Troops (FSRT) and the Fleet Contingent Troop (FCT) for maritime interdiction missions around the globe. It has been rumoured that elements of S squadron may be moved from 43 Commando and be absorbed into the new Maritime Operations Commando.[2]
Having to absorb S Squadron, 43 Commando or not, the MOC will clearly have to have a different structure to the current 42 Commando, which looks like this:
Command Company
Logistics Company
Juliet Company (J Coy) (Close Combat Company)
Kilo Company (K Coy) (Stand Off Company)
Lima Company (L Coy) (Close Combat Company)
Mike Company (M Coy) (Stand Off Company)
Elements of a typical Commando unit's companies include:
1 Command Company:
1 Logistic Company:

A Echelon 1 (A Ech1)
A Echelon 2 (A Ech2)
Forward Repair Team (FRT)
Regimental Aid Post (RAP)
B Echelon (B Ech)

2 Close Combat Companies :

Company Headquarters
(Coy HQ)
3 Close Combat Troops
(Troop HQ, 3 Rifle Sections, Manoeuvre Support Section)

2 Stand Off Companies
(1 x tracked, 1 x wheeled)
consisting of :
It would seem obvious that the MOC will have little use for certain elements, such as mortar, anti-tank and heavy machine gun troops. Indeed, it has been stated that some of 42 Commando's current posts, such as heavy weapons specialists, will be reallocated throughout the Royal Navy.[1]
42 Commando's restructuring will leave only 40 Commando and 45 Commando in the traditional amphibious assault role. Currently, one commando within 3 Commando Brigade is tasked as the core of the Lead Commando Group in the high readiness role, one is in training and the other assigned to 'standing tasks', which includes providing on-ship force protection teams. The restructuring will see 42 Commando dedicated to ships force protection and other maritime tasks, while 40 and 45 Commando rotate into the Lead Commando role.
The MOC will also have a counter terrorism role. In a leaked memo, Major General Robert Magowan, Commandant General Royal Marines, says, "[the MOC] will also provide our core contribution to UK domestic operations in response to a terrorist event." Liaison officers from the SAS and SBS will be attached to the unit.[3]
More info / further reading: