Brigade Reconnaissance Force (Brigade Patrol Troop)
A special reconnaissance unit within 3 Commando Brigade, Royal Marines, the Brigade Patrol Troop (BPT) will insert ahead of an amphibious landing or other RM operation to gather intelligence on the surrounding area.
This relatively new unit takes over the reconnaissance role previously performed by the Mountain and Arctic Warfare Cadre, a Royal Marines special forces unit. The Cadre trained the rest of the Marines in all aspects of mountain climbing and arctic warfare, a role now performed by the Mountain Leaders. Those qualified as Mountain Leaders often serve in the BPT.
The Royal Marines of the Brigade Patrol Troop are comparable in role and proficiency to the PARA's Pathfinder Platoon and whilst not technically special forces, are certainly an elite within an elite. In addition to full Royal Marines training, the Marines of the BPT are also parachute trained.
Brigade Patrol Troop Organisation
The Brigade Patrol Troop is part of Surveillance and Reconnaissance Squadron, 30 Commando IX (Information Exploitation) Group. The BPT consists of a troop HQ and 4 6-man teams. Each team is made up of :
1 x team commander (Sergeant) with Mountain Leader 1 (ML1) and/or a Platoon Weapons class 3 (sniper) qualification
2 x ML2 (Corporals)
3 x 2nd tour Reconnaissance Operators
Brigade Reconnaissance Force
The BPT will often deploy alongside other specialized units, forming the Brigade Reconnaissance Force (BRF). The BRF typically consists of:
The Brigade Reconnaissance Force may also include recce elements from Army units that are also deployed in the same theatre.
click here for an affordable CD-Rom on passing selection for the Royal Marines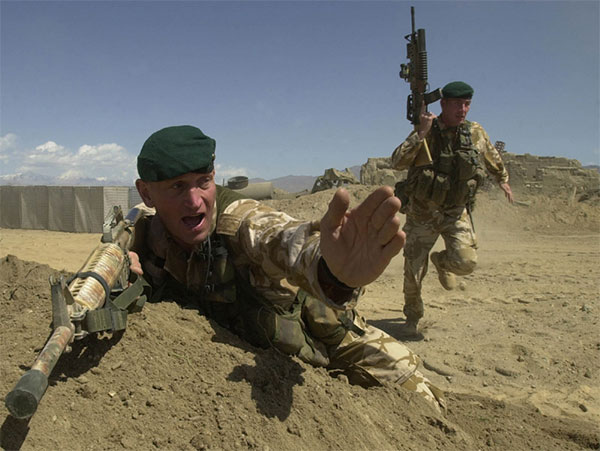 More info / further reading: