43 Commando CQB Training
06.10.2015
A couple of weeks ago British Royal Marines and their American counterparts trained together in the UK. Royal Marines from 43 Commando Fleet Protection Group and U.S. Marines from the Marine Corps Security Force Regiment trained in integrated teams at a Police tactical training centre in Gateshead, Tyne and Wear, England.
Among the members of the Marine Corps Security Force Regiment taking part in the training were a number from the Recapture Tactics Teams (RTT). These elite tactical teams are based at naval bases at Kings Bay, Florida and Bangor, Washington - both home to submarines armed with nuclear missiles. Like 43 Commando who guard HM Naval Base Clyde in Scotland, Recapture Tactics Teams' role is to deny access to nuclear weapons, submarines and associated facilities at their stationed base. The British and American Marines are taking part in Exercise Tartan Eagle 2015, an annual joint exercise, with training activities taking place in the UK and US.
The training shown in the following video and photos took place at the Northumbria Police Operational and Tactical Training Centre (OTTC), a state-of-the-art facility used by Police firearms units. It features a 2-story tactical training building with reconfigurable rooms in which the Marines practised close quarters combat (CQB) training. They also made use of the indoor firing ranges which employ computerised target turning systems and project computer-generated imagery. Other facilities include the the Judgmental suite which uses interactive video walls to test trainee's judgments under high stress. Trainees may be further immersed in scenarios at the Immersive Learning Suite which safely simulates firearms scenarios.
Video and Photos
U.S. DoD video by Master Sgt. Chad McMeen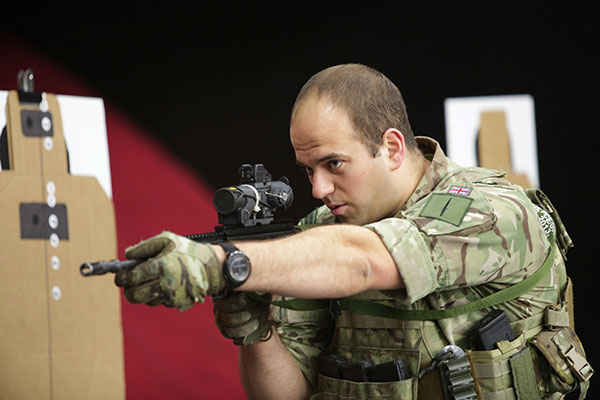 U.S. DoD photo by Master Sgt. Chad McMeen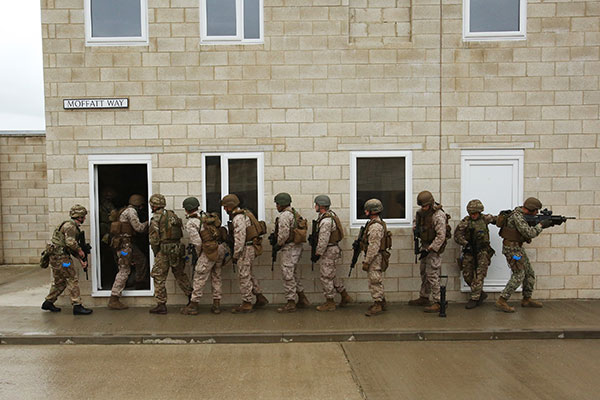 U.S. DoD photo by Master Sgt. Chad McMeen