Photos of British Special Forces In Syria Are Revealed By BBC
09.08.2016
Photos of British Special Forces operating in support of Syrian rebels have been published by the BBC.[1]
The BBC report that features the photos claims that British and American special forces have been working alongside a rebel faction known as the New Syrian Army (NSA). It is believed that British Special Forces have been operating from inside Jordan where they train the NSA to take on ISIS. The small UKSF team(s) have on several occasions crossed over the border into Syria to provide direct support to the rebels. Such support may include providing Forward Air Controllers to coordinate air strikes from allied warplanes.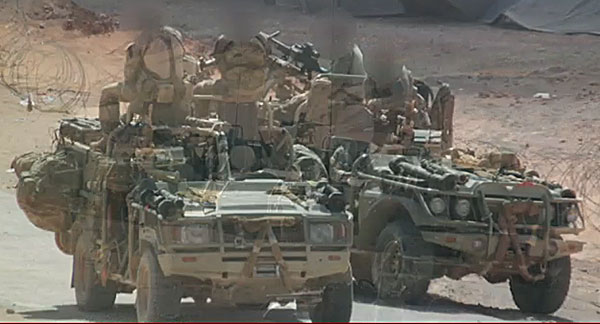 Photo source: BBC News
The photos purport to show United Kingdom Special Forces (UKSF) on heavily-armed 4x4 vehicles. Rather than using Supacat HMT400s or Land Rover Defenders, the SAS / SBS team are pictured using Al-Thalab (Fox) Long Range Patrol Vehicles (LRPV), a militarized version of a Toyota pickup truck.
The Al-Thalab is manufactured by Jordan Light Vehicle Manufacturing under license from Jankel Group Ltd. The vehicle features a tubular superstructure attached to a 79 series Land Cruiser chassis. The superstructure supports modular configurations of the payload area, allowing operators to tailor the vehicle to mission requirements. The LRPV is designed to travel up to 1,200km without resupply. Provision for armaments include a swing-mount at the vehicle commander's station for a General Purpose Machine Gun (GPMG) and a ring mount at the rear for a Heavy Machine Gun (HMG) or Grenade Machine Gun (GMG). The Al-Thalab design includes Mounting brackets for secure radios and antennae.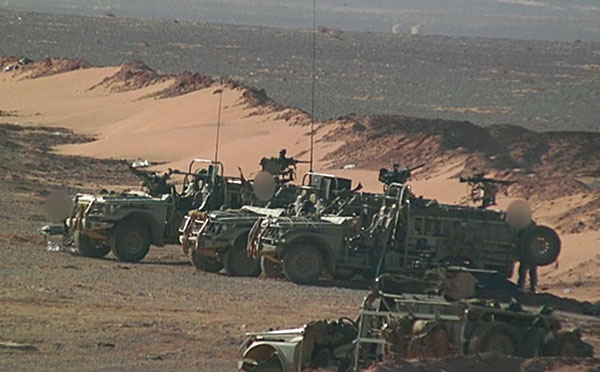 Photo source: BBC News
More info / further reading: