Special Forces On Track For New Chinooks
19.08.2013
RAF special forces are on track for to receive a fleet of Chinook helicopters that they were ordered nearly 2 decades ago.[1,2]
8 Chinook HC3 (Mk3)helicopters were ordered from Boeing in 1995 with the aim of having them ready for special operations use by 1998. A litany of procurement woes, including neglecting to get permission to alter the helicopter's avionics software, meant that that the fleet of helicopters, which had been intended to airlift SAS and SBS troops into action, have instead been collecting dust in aircraft hangers.
The Chinook HC3's systems were eventually reverted to HC2/2a standard so they could be passed as airworthy and able to fly. This process removed the HC3's digital/analogue hybrid cockpit replacing it with the analogue HC2 cockpit, installing a health
and usage monitoring system and UK specific communications equipment and defensive systems. The reverted HC3s also lost the radar that was housed in the helicopter's nose.
The MK3s that have entered service have mostly been used on training flights. In the meantime, RAF special forces (7 Squadron) have continued flying the MK2/2a models, which have been fitted with sub-optimal bolt-on upgrades to enable night/low-light operations.
This sorry saga of bureaucratic impotence and wasteful mismanagement has ended up coasting the tax payer some £1.2billion.
It now appears that 7 Squadron is finally on course to receive the helicopters, although it will still have to wait several years. Project Julius is an initiative that will upgrade the entire RAF Chinook fleet to a common cockpit standard. Upgrades installed by Project Julius will include a Thales TopDeck cockpit which features 6" x 8" multi-function displays, onboard mission planning system and ground mission support system. Onboard systems will integrate with tablet computers operated by both cockpit and cabin air crew.[3] Honeywell T55-714 engines will be fitted across the entire Chinook fleet, prividng improved performance.
Current HC2/HC2a aircraft that complete the Project Julius upgrades will be designated as HC4 / Mk4 while the 8 HC3s will be designated as HC5 / Mk5. The Mk3 fleet is expected to be upgraded to Mk5 standard in 2016.[4]
The RAF will also be receiving 11 new-build HC6 Chinooks. These are based on the CH-47F design, but with the same avionics suite as the rest of the upgraded fleet. The HC6 will also feature a Digital Automatic Flight Control System that allows such functions as an auto-hover mode.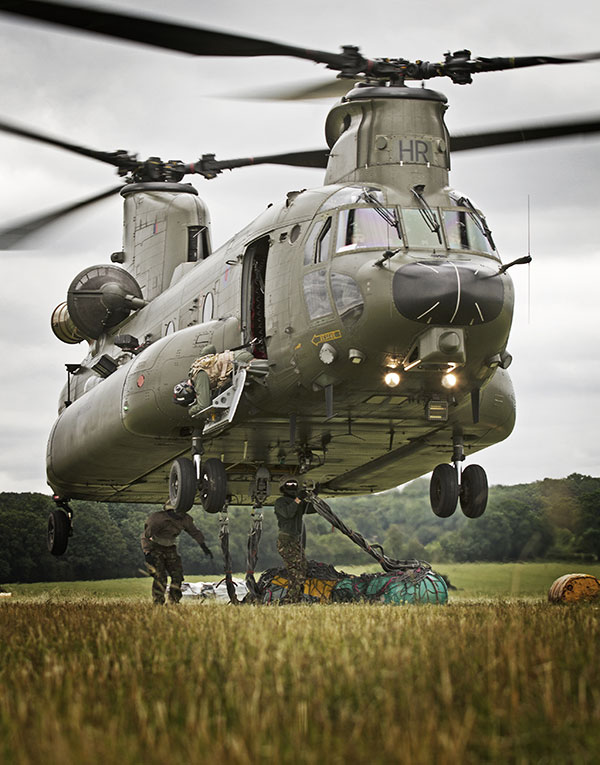 more info / further reading: