7 Squadron - RAF Special Forces Flight
7 Squadron SF flight are based at RAF Odiham and form part of the Joint Special Forces Aviation Wing (JSFAW) along with AAC 657 Squadron.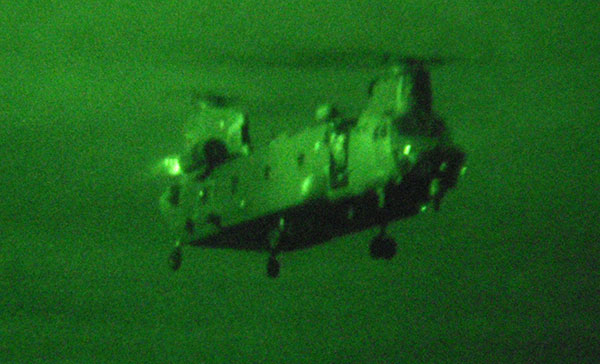 7 Sqn SF flight operate twin-rotor Chinook HC6 Helicopters in support of SAS/SBS missions. The primary role of SF flight Chinooks is as follows:
Insertion and extraction of special forces men and vehicles/boats
(at land or at sea)
counter terrorism operations
(typically fast-roping SAS/SBS teams onto their objectives)
resupply of special forces
(often deep behind enemy lines)
SF flight also carry out more general squadron duties such as cargo transport.
The unit was formed shortly after the 1982 Falklands conflict, during which a need for specialist helicopter support for SAS/SBS operations was highlighted. The RAF, which already had an experienced SF Hercules flight in 47 Squadron, was given the task. The Chinook HC1 (later upgraded to HC2/2a) met the needs of the SAS and SBS, as it had the range and cargo-carrying capability their missions required.
more info: Chinook HC2 / HC2a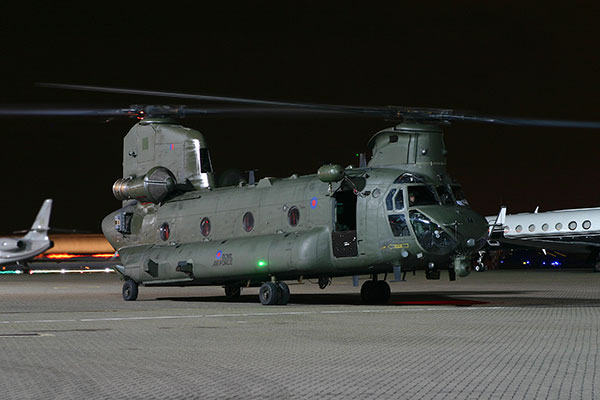 A series of improvement programs have upgraded the HC2, HC2a and HC3 (purchased special ops Chinooks that suffered procurement issues) to a common standard. 14 new-build HC6 airframes have also been added to the RAF Chinook fleet.
more info : RAF Chinook Fleet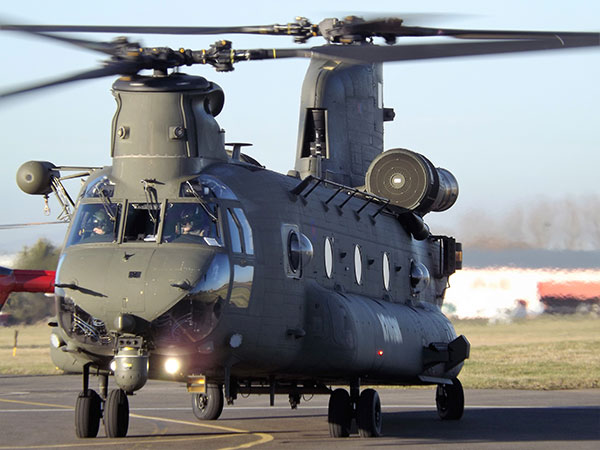 7 Squadron Operations
1983 - Chinooks from 7 Squadron, operating from Akrotiri, Cyprus carried supplies to British troops in Lebanon


1986 - Present - 7 Squadron undertook many operations in Northern Ireland


December 1988 - A pair of 7 Squadron Chinooks assisted Scottish authorities in the aftermath of the bombing of Pan Am Flight 103 over the village of Lockerbie.


1991 - During Desert Storm 3 SF flight Chinook HC1s, each painted with special camouflage schemes and carrying extra avionics, deployed to a forward operating base at Al Jouf, Saudi Arabia. Over the course of the war, SF flight:


1991 - 7 Squadron delivered humanitarian aid to the Kurds in Northern Iraq


Mid 90s - 7 Squadron supported NATO humanitarian efforts in Croatia


1997 - 7 Squadron support the SAS on 2 separate missions to rescue imperiled British nationals in war-torn Albania


1997 - 7 Squadron inserted SAS teams close to Pristina for Operation Tango


1999 - Supported NATO operations in Kosovo


2000 - 7 Squadron supported the 1 PARA Battle Group during Operation Palliser in Sierra Leone. The unit would later carry the SAS, SBS and Paras into the heart of the Sierra Leone jungle during Operation Barras.


December 2001 - the squadron flew SBS/SAS assault units onto the MV Nisha cargo ship in the English Channel


2001-2014 - Afghanistan. 7 Squadron supported UKSF operations in Afghsnistan.Known missions include:


2003-2009 - Iraq - 7 Sqn Chinooks supported UKSf operations in the opening states of the invasion in Iraq. These initial operations included:



On one occasion, they ferryed in SAS teams into the western desert on a WMD search and destroy operation.
more info: SAS Gulf War 2 Raid Revealed
(Elite UK Forces report)

7 Sqn also inserted an SBS Land Rover formation on an ill-fated mission behind enemy lines.
more info: 'Zero Six Bravo'
(Elite UK Forces report)



7 Sqn Chinooks would later support a UKSF task force that operated out of Baghdad, known as Task Force Black
more info: Task Force Black


March 2011 - Libya - 7 Sqn Chinooks were deployed in support of UKSF in Libya. One mission to covertly insert a M16/UKSf team into the country was revealed when the landing was spotted by locals and the team apprehended by militia.
more info: UK Special Forces Team Arrested In Libya
(Elite UK Forces report)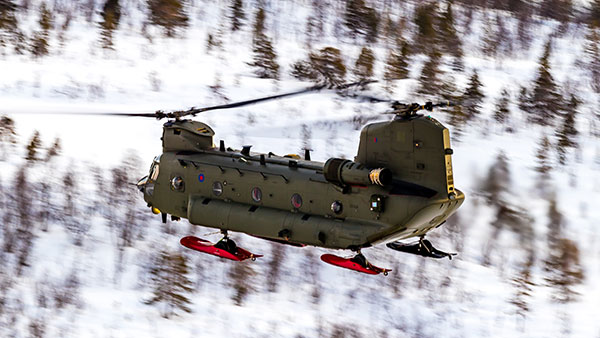 7 Squadron Losses
June 2nd, 1994 - ZD576, a SF flight Chinook HC2, crashed on the Mull of Kintyre, Scotland in dense fog. All of the 29 people on board (4 crew and 25 passengers) were sadly killed. The helicopter had taken off from RAF Aldergrove, Northern Ireland, bound for Fort George, Scotland. The passenger list included many top-level members of the British intelligence apparatus in Northern Ireland.
video : new evidence on SF Chinook Crash


19th August, 2009 - Chinook #ZA709 crash landed after being hit by Taliban RPG fire shortly after dropping off a British Special Forces unit in the Sangin area of Helmand Province, Afghanistan. All 4 crew members emerged fromt he crash unharmed. They were extracted from the scene but the downed helicopter was deemed to damaged to be repaired and it was detroyed by an air strike to prevent it from falling into enemy hands.

RAF 7 Squadron Info



motto
:
"Per diem, per noctem"
(By day and by night)
based at
:
RAF Odiham
aircraft
:
Chinook HC2 Helicopters