RAF Develops Tactical Role For The C-17
26.04.2016
The Royal Air Force (RAF) is developing a tacitical role for its C-17A Globemaster III transport aircraft.
RAF 99 Squadron currently operates a fleet of 8 C-17s out of Brize Norton. The aircraft is employed by the RAF in the strategic heavy-lift role i.e. long distance airlift and airdrop of men and supplies, usually to main airbases or forward deployed bases in the theatre of operations.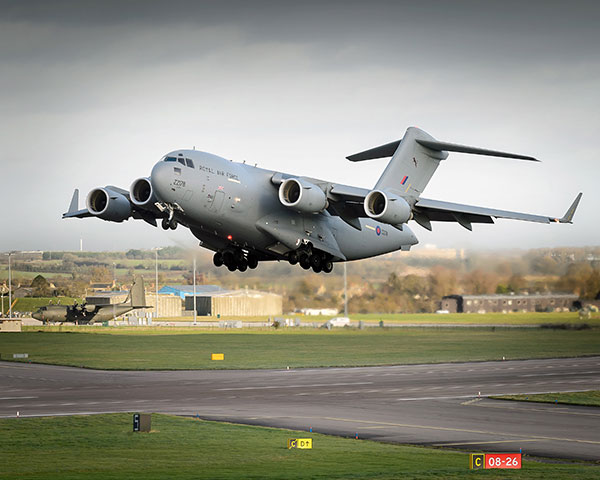 The aircraft is, however, capable of being used as a tactical airlifter i.e. performing within-theatre airlift / air drop and operating from austere runways.
A recent MoD news report revealed that work is underway to develop the tactical role for RAF Globemasters. [1]. In a series of jumps, parachutists from the Joint Aerial Delivery Test and Evaluation Unit trialed military free fall parachuting from a C-17 aircraft flown by 99 Sqn and 206(R) Squadron.
Officer Commanding No. 99 Squadron, Wing Commander Rhodri Evans, said:
"To be present as the UK C-17 Force took its first steps into the tactical role was an immense privilege and a testament to all the hard work undertaken, not only by the aircrew of 99 and 206 Sqn, but all the other supporting agencies who enabled us to get this far. Already a proven, outstanding platform in the Air Land environment, the crews of 99 Sqn look forward to further developing and displaying the UK C-17 in the tactical and airborne delivery arena, increasing our utility to Defence."
For an example of how an air force may employ the Globemaster in a tactical way, one can look at how the United States Air Force (USAF) does it.
USAF C-17s perform mass tactical air drop of parachutists, supplies and equipment, typically in support of airborne forces such as the 101st Airborne Division or the 75th Ranger Regiment (Airborne).
The USAF also trains a cadre of C-17 crews to Special Operations Low Level II (SOLL II) standards. SOLL II crews can fly the C-17 at night, using night vision goggles (NVGs), landing at un-lit air strips and flying at low level to avoid detection. They may also deploy special operations personnel via HALO or HAHO air drops. They may also drop Navy SEALs and small boats out at sea in so-called 'boat drop' operations.
SOLL II crews flew large quanuities of men and supplies onto an air strip captured by US forces during the opening stages of the Afghanistan campaign. Similarly, SOLL II-crewed Globemasters flew M1A1 tanks in to captured Iraqi airfields during the first stages of the 2003 invasion of Iraq.[2]
It is not clear from public domain info how far the C-17 tactical role will be pushed or what extent the capability will be used to support United Kingdom Special Forces (UKSF). C-130J Hercules aircraft, operated by 47 Squadron RAF, currently provide tactical airlift and airdrop for UKSF. The C-17 has a greater payload capacity than either the Hercules or the A400M Atlas, which is also developing its tactical role.
The C-17 could make an ideal platfrom for long range insertion of UKSF troops by parachute, carrying twice as many from further afield, with the added capability to air drop vehicles and heavy support weapons. Long range boat drop of SBS men and small boats via C-17 is another possibility.
U.S. Dod footage
More info / further reading: