Updated Rifle For British Army
26.04.2018
The British Army is phasing out its use of the L85A2 rifle - also known as SA80A2 - for an updated design, the SA80A3.
The A3 upgrade includes a new upper receiver with cut down gas block and a full-length Picatinny rail that can accommodate night vision scopes mounted in tandem with day scopes. The new forearm features a Picatinny rail along the bottom - most commonly used to mount a grip pod or similar device - and an HKey rail on each side. This forearm is free-floating, allowing the barrel to resonate freely after each shot, a feature designed to improve accuracy. A stud has been added above the fire selector lever to prevent it from over-travelling.
The new rifle adopts a 'Flat Dark Earth' colouring designed to improve camouflage effectiveness in a range of environments. The rifle is finished in a Cerakote anti-abrasive, water-resistant coating. The materials used in the A3's coatings are designed to reduce its visibility in the infrared (IR) spectrum.
The overall weight of the A3 is some 100g less than the A2.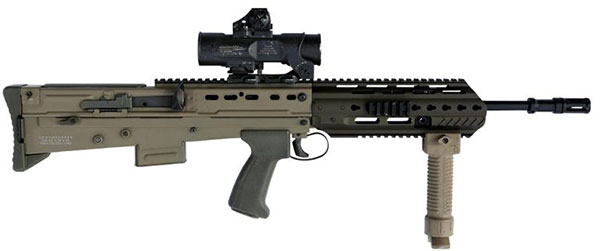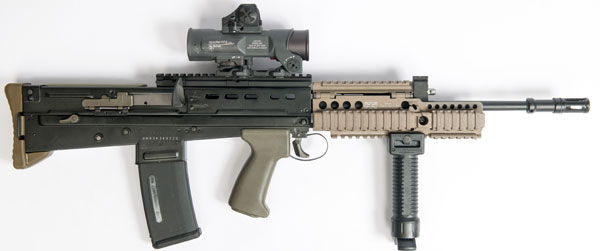 The multi- million pound Mid Life Improvement (MLI) project will initially upgrade 5000 SA80A2s to A3 standard with plans to upgrade more in the future.
Read more about the SA80 family of armaments.

British Army video showing off the new rifle:

More info / further reading: