Special Boat Service To Get New Minisubs
29.10.2018
The United Kingdom has been cleared to buy new Swimmer Delivery Vehicles (SDV) for the Special Boat Service (SBS), it has been revealed.[1]
A press release from the US Defense Security Cooperation Agency states that the US State Department has approved a potential sale of three SEAL Delivery Vehicles (SDV) MK 11 Shallow Water Combat Submersibles (SWCS), along with a training and logistical support package.
The notice states:
"The Government of the United Kingdom (UK) has requested to buy three (3) SEAL Delivery Vehicles (SDV) MK 11 Shallow Water Combat Submersibles (SWCS). Also included are spares; handling equipment; test equipment; operator manuals and technical documentation; U.S. Government and contractor engineering, training, technical, and logistical support services; and other related elements of logistics and program support. The total estimated program cost is $90 million...

...The proposed sale of the SDV MK 11 SWCS will continue UK's maritime partnership, interoperability, and regional security capability. The UK has a proven track record of successfully deploying predecessor system. The UK will have no difficulty absorbing this system into its armed forces." [2]
The SBS currently operates a small fleet of US-built Mk VIII Mod 1 SDVs. The SDVs are used for clandestine movement of SBS commandos, including on Maritime Counter Terrorism (MCT) tasks. It is rumoured that the SBS also employ SDVs in support of the Secret Intelligence Service (SIS or 'MI6') as a clandestine method of inserting and extracting personnel across foreign shores.[3]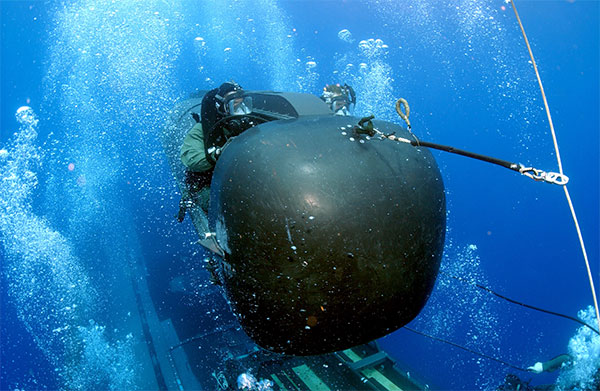 U.S. Navy photo by Chief Photographer's Mate Andrew McKaskle
The SWCS is a free-flooding electrically-powered submersible capable of carrying up to 6 divers on journeys at relatively shallow depths. As with the MK VIII Mod 1 SDV it replaces, the SWCS can be launched and recovered from motherships on the surface or via submerged submarines fitted with a compatible dry dock shelter (DDS). The Royal Navy's Astute class subs can be fitted with such a DDS - in a program called Project Chalfont.[4] SDVs can also be delivered as an underslung helicopter load.
For more info on the SWCS take a look at the excellent Covert Shores - SWCS page.
More info / further reading: