Paratrooper Awarded Victoria Cross
25.02.2015
A Paratrooper is to be awarded the prestigious Victoria Cross (VC), Britain's highest military award for gallantry.[1][2]
Lance Corporal Joshua Leakey of the 1st Battalion Parachute Regiment (1 PARA) earned the VC for actions carried out in August 2013 during a joint UK-US operation in Afghanistan. On that day, he was part of a task force that consisted of a small number of British troops and American Marines who had been airlifted by Chinook helicopter to a village south of Nowzad in Helmand Province. 1 PARA is the core element of the Special Forces Support Group (SFSG) and it would appear the SFSG component's role during this mission was to provide protection / fire support for other forces who planned to enter and clear the village, a suspected Taliban stronghold.
As the operation proceeded, the troops became pinned down by heavy enemy machine gun and RPG fire. A US Marine Corps captain was shot and their communications went down. The battle raged for an hour. At one point L/Cpl Leakey dashed across long stretches of exposed hillside to rescue a machine gun team that had become surrounded by enemy fighters. Under sustained fire, L/Cpl Leakey provided medical aid and organised the evacuation of casualties. He then returned through open ground to retrieve and reposition a machine gun. As he did so, bullets ricocheted of the gun's frame and landed all around him. Despite the danger, L/Cpl Leakey was able to bring the machine gun back into the fight. Incredibly, L/Cpl Leakey proceeded to do it all over again.
From his citation:
"Weighed down by over 60lbs of equipment, he ran to the bottom of the hill, picked up the second machine gun and climbed back up the hill again: a round trip of more than 200m on steep terrain. Drawing the majority of the enemy fire, with rounds splashing around him, L/Cpl Leakey overcame his fatigue to re site the gun and return fire."
The Commanding Officer of 1st Battalion The Parachute Regiment said:
"Lance Corporal Leakey's actions that day are in the finest traditions of the British Army. He is a deeply professional, quietly proud and very respected soldier whose courage and example espouses everything that is best in the Army's Values and Standards and those of the 1st Battalion, The Parachute Regiment. We are all immensely proud to serve alongside him."
Leakey, who joined 1 PARA in 2007, will be at a ceremony later today at Lancaster House in London along with 13 others being recognized for acts of bravery.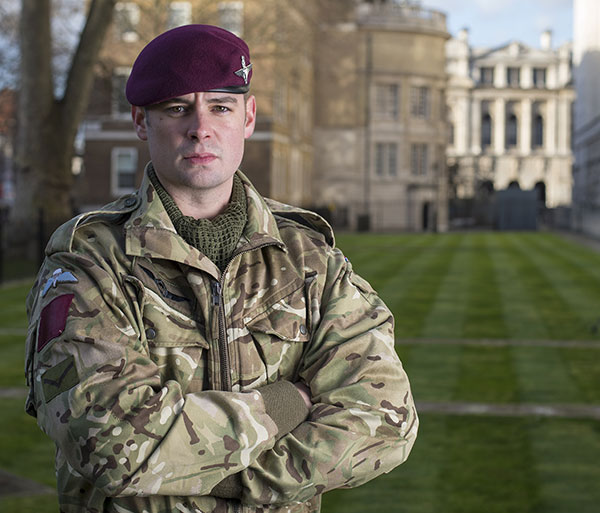 MOD photo by Cpl Jamie Peters RLC | © Crown copyright 2015 | used under
MOD News Licence
more info / further reading: