THE Gurkha Rifles Take On The Taliban
27.09.2007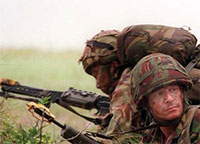 photo courtesy US DoD
The renowned Gurkhas have been involved in heavy fighting in Afghanistan. The Nepalese-born soldiers of 1st Battalion, Gurkha rifles, are taking part in Operation 'Palk Wahel' or 'Sledgehammer Hit', a major offensive being carried out by the International Security Assistance Force (ISAF) in coordination with the Afghan National Security Forces.
The objective of the operation is to drive Taliban forces out of Upper Gereshk Valley thus paving the way for major reconstruction and social and economic development - the key to winning hearts and minds and providing long-term security and stability to the region.
In previous operations, coalition forces would drive the Taliban insurgents away from a strategic positions, only to have them return at a later date. The Gurkhas are acting as a key part of a new strategy - to take and hold strategic towns and villages, securing them so that vital development can occur unhindered. Over the last few days the Gurkhas have attacked the Taliban in the compounds they usually withdraw to, allowing them no place to regroup and consolidate.
The Gurkhas are particularly suited to operating in Afghanistan.
The Nepalese fighters come from mountain tribes and can quickly acclimatize to working at high altitudes.
Nepal and Afghanistan share a similar climate, with both swinging from extreme cold in winter to very hot summers.
The Gurkha's native language Nepali and the Afghani language Dan are very similar
Gurkhas have fought in Afghanistan before, for the British in 1879 and the 8th century.
further reading:
Gurkhas are the ideal warriors to win battles, hearts and minds
(Times Online Report)
Gurkha Battalion joins ANA and ISAF effort in Upper Gereshk Valley
(UK MOD Press Release)