651 Squadron Army air Corps
651 Sqn are an Army Air Corps squadron that is believed to have joined the Joint Special Forces Aviation Wing in 2006. They are known to operate Britten Norman Defender 4S AL Mk1 aircraft which are used for reconnaissance missions.
These twin-engine, fixed wing turboprop aircraft are typically fitted with an array sophisticated surveillance equipment such as:
low light level television (llltv) camera fitted in a turret mounted under the Defender's nose
a number of cabin-mounted cameras
COMINT (COMmunications INTelligence) gear for listening in on radio signals
The aircraft carries infrared jammers and other defensive systems in pods under the wings in order to defend against surface-to-air missiles.
1 Flight AAC have, in the past, flown similar aircraft (BN-2T Islanders) as airborne surveillance platforms during Operation Banner (Northern Ireland).
Defender 4S AL Mk1 Performance
3,500lbs of surveillance equipment
8 hours endurance
can patrol up to 150nm of border per flying hour
day/night all-weather operation
can operate low-level to 25,000ft
loiter/patrol speed 60-160kts
can operate on short, rough airstrips
Speculated Role of 651 Squadron
Not much is publicly known about the current role of 651 Sqn. As they now come under the auspices of the JSFAW, it can be speculated that they are now focused on supporting UKSF operations. It's believed that 651 Sqn aircraft have been operating in Iraq in support of the British presence there. As reported in the press, based out of Basra and Al Amara, Defenders have been monitoring movements of insurgents along routes into the capital. It's likely that such operations involve close coordination with UKSF ground units. It's also possible that 651 Sqn support SAS Task Force Black which operates throughout Iraq. Another possibility is that 651 Squadron operates the Defender aircraft in the light utlity role and as such can transport, insert, extract and resupply UKSF ground units.

Photo of 651 Sqn AAC Defender 4S AL Mk1 :




---
---
FEATURED INFO
RMP Bodyguards

A look at the Close Protection Unit Royal Military Police...

CPU RMP
FEATURED PHOTO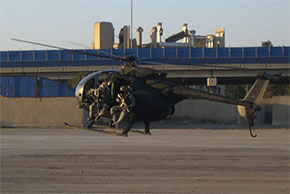 UKSF riding on Little Bird helicopters
(click image for fullsize view & more info)
more photos
NEW PHOTOS
UKSF HEADLINES