SAS ON TRAIL OF AL-QAeDA Hitman
02.10.2007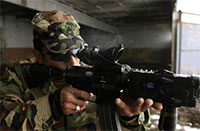 DoD photo by:
SSGT JUSTIN D. PYLE, USAF
The Special Air Service (SAS) has joined the hunt for an Al-Qaeda killer operating in Baghdad.
It is believed that a spate of killings, thought to be the work of one man, have been carried out in response to the success of the recent US 'surge'. Progress has made in the south of Baghdad due to additional troops deployed on the streets and improved security measures put in place. It's believed that Al-Qaeda have sent in their operative in an attempt to redress the balance of fear.
The SAS are reportedly working with the US Army's 10th Special Forces Group (Airborne), popularly known as 'Green Berets', to hunt down the Al-Qaeda hitman. Whilst not confirmed, it is likely that the SAS men on the hunt are from Task Force Black, which has been operating in coordination with US Special Operations Forces in Iraq for some time.
Further reading:
SAS joins search for executioner of 19 Iraqis
(Telegraph online report)