Commando Merlins to Receive Upgrades
03.02.2014
RAF Merlin helicopters will receive £330 million in upgrades before being delivered to the Commando Helicopter Force (CHF)[1]
The Merlins will replace the venerable Sea King Mk.4s that the Commando Helicopter Force currently fly in support of the Royal Marines.
25 Merlin HC3/HC3a helicopters will be modified for the commando role. The Merlin Life Sustainment Programme upgrades will include fitting digital glass cockpits and other avionics. The helicopters will also receive a number of modifications required for shipboard operations such as folding main rotor blades, folding tails, strengthened undercarriages and deck lashing points. They will also be fitted with a fast-rope point for Royal Marines operations. The resulting aircraft will be designated as Merlin Mk.4 Commandos. The upgrades will be carried out by AgustaWestland.
The CHF's fleet of Sea King Mk.4s will leave service in 2016. The Merlin Mk.4s will not be available until 2018. An interim batch of 7 Merlins will be delivered to the CHF. With only some of the shipboard modifications performed, namely being fitted with folding main rotor blades and fast-rope facility, these helicopters will be designated as Merlin Mk.3i and will act as a stop gap until the fully modified MK.4s come online.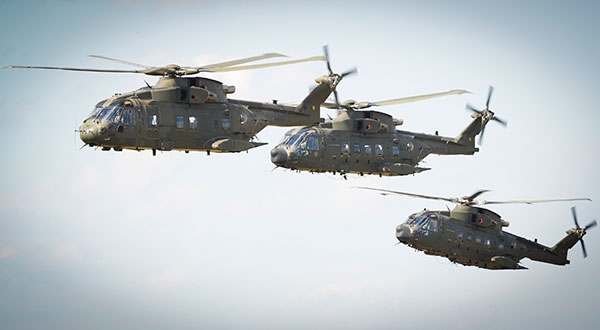 more info / further reading: