L129A1 Sharpshooter
The L129A1 Sharpshooter is a marksman's rifle that has been fielded by UK forces since late 2010.
The weapon was procured in order to fill a capability gap identified by experience in Afghanistan, where British infantry units were often engaged by small arms fire from outside the range of their own assault rifles and light machine guns. At ranges between 500m and 800m, the only small arms carried by infantry units that were capable of returning effective fire were the GPMG or the bolt-action L96A1 sniper rifle, which is not suitable as a patrolling soldier's weapon.
The L129A1 is a 7.62mmx51mm semi-automatic rifle designed to give an infantry squad the ability to engage targets with accurate fire out to 800 meters. Unlike the L96a1 bolt-action sniper rifle previously used in the role, the Sharpshooter is fitted with a 20-round box magazine and sights for both long range and close quarters target acquisition.
The MoD procurement specification required that the L129A1 be able to use standard NATO M80 7.62mm ball ammunition, including rounds delinked from machine gun belts. The optimal and most commonly used ammunition, however, is the RG 155-grain sniper round.
Aside from being carried by marksmen in infantry squads, the L129A1 may also carried by the spotter element of a 2-man sniper team such as those found in Royal Marines Commando Recce Troop. Note: the SSW variant of the L129A1 was later introduced to better serve as a spotter's weapon (see bottom of page).
Manufactured by U.S. company, Lewis Machine & Tool, the L129A1 has the following features:
chambered in 7.62mmx51mm NATO
quick-change free-floating 16 inch barrel
Trijicon ACOG 6x48 scope with bullet drop compensator reticule
additional Trijicon 1X LED Rugged Miniature Reflex (RMR) sight atop the main scope for close in shooting
backup flip-up iron sights
adjustable bipod
extendable stock
fold-down fore grip
20-round box magazine
weight of 9lbs, 14oz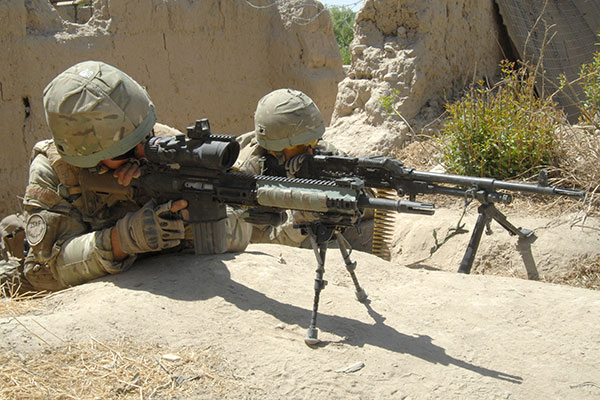 L192A1 Sniper Support Weapon (SSW)
The L192A1 SSW was introduced by an Urgent Operation Requirement (UOR) actioned during the Afghanistan campaign. This variant is designed for use by the second man (spotter) in a sniper pair. It replaces the ACOG scope with a L17A2 Schmidt & Bender 3-12 x 50 Sniper Scope and adds a surefire suppressor. Like the ACOG used on the Sharpshooter, the SSW's scope is supplemented by a mini reflex scope for close quarters use.
In the event of the sniper's scope failing, the SSW's scope can be moved across to the sniper's L115A3 so it can stay in the fight. The spotter would then revert to back-up iron sights for his SSW.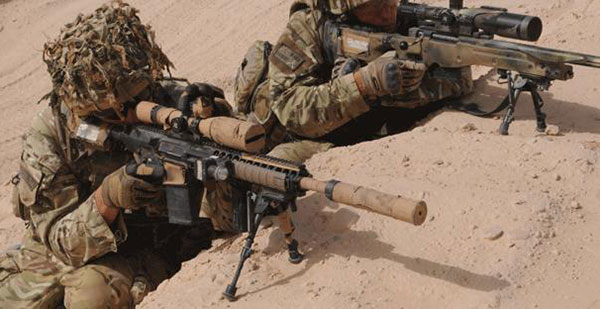 © UK MOD / Crown Copyright 2023