SAS Advice Had 'Limited Impact' On Temple Massacre
04.02.2014
The Foreign Secretary, William Hague, has clarified the role of the Special Air Service (SAS) in the 1984 Golden Temple raid by Indian forces in which hundreds of people died.[1]
Earlier this year, declassified papers revealed that the British government approved the sending of an SAS officer to India to advise Indira Gandhi in how to break the 6-month siege by Sikh dissidents at the Golden Temple in Amristar.
In today's report to MPs, Hague stated that the extent of UK military involvement was limited to military advice given early on in the 6-month-long crisis and did not include the provision of training or equipment.
The Foreign Secretary played down the impact of the SAS advisor on the outcome of the subsequent military operation, which is now classed as a massacre. According to the Telegraph, the SAS advisor stressed that any military action should be initiated as a last resort after all attempts to negotiate a peaceful outcome had failed. He also recommended the use of helicopter-borne commandos in order to gain the element of surprise, end the operation swiftly and reduce the overall number of casualties.
The actual operation, code named 'Operation Blue Star', which came 3 months after the visit by the SAS officer, used a different approach than he advised. Rather than a surprise airborne assault, Indian commandos stormed the temple via a full-frontal ground attack. The intense and protracted gun battle that followed cost hundreds of lives (estimates range from 500-3000).
It is perhaps not surprising that the Indian government might have requested advice from the SAS. It had only been a few years since the world had watched B Squadron of 22 SAS storm the Iranian Embassy at Princes Gate, London. Since then, access to the SAS's expertise in such operations would been a potent bargaining chip employed by British governments as part of international relations.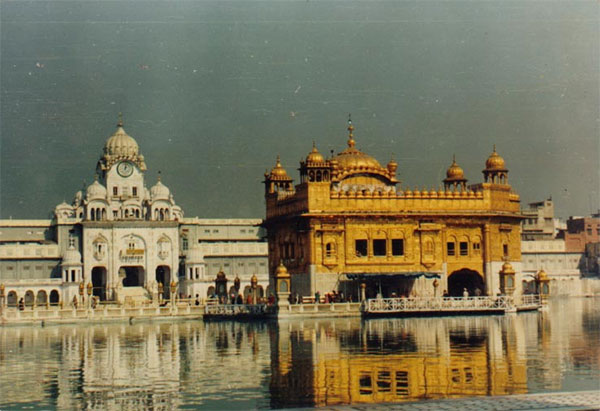 Public domain image by wikimedia user IP Singh | used with thanks
Related Video
more info / further reading: