47 Squadron - RAF Special Forces Flight
Flying Hercules C-130J Hercules transport aircraft, 47 Squadron's Special Forces Flight fly airlift and re-supply operations for United Kingdom Special Forces (UKSF).
47 Squadron Aircraft
The Squadron flies both the 'stretched' (C4) and normal-length (C5) variants of the C-130J Hercules.

more info: Hercules C4 / C5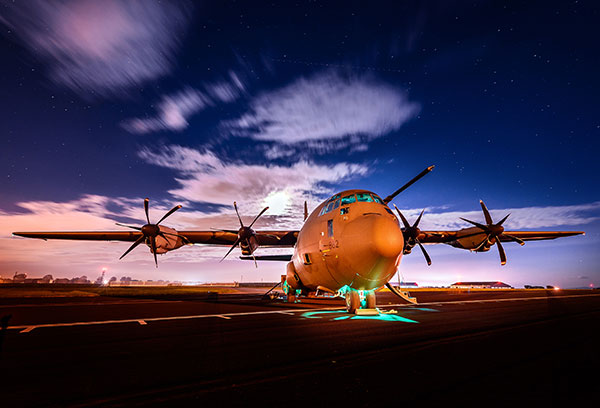 The squadron had previously operated Hercules C1, C3 and C3a aircraft, until they were retired from service in 2013.

more info: Hercules C1 / C3 / C3a
---
RAF 47 Squadron Info



motto
:
"Nili nomen roboris omen"
(The name of the Nile is an omen of our strength)
based at
:
RAF Brize Norton
aircraft
:
Hercules C4 / C5
---
47 Squadron Roles
Primary roles of the squadron are:
Air drop of UKSF parachutists at high, medium and low level
Air drop of supplies to forces in the field
Boat drop i.e. dropping boats under parachute onto water
Resupply/delivery/casevac/recovery of ground units
(often via ad hoc airstrips)
Tactical Air Landing Operations (TALO)
(facilitating the siezing of airfields by flying UKSF/Paras/RAF Regiment directly onto the runways)
Other roles may include:
Acting as ALARPs (Air Land Refuel Points)
(in which Hercules configured with additional fuel tanks can refuel other aircraft, such as Special Forces Chinooks on the ground)
Submarine rendezvous (dropping parachutists into water close to surfaced subs)
47 Sqn missions may involve flying extremely low and at night to evade detection.
U.S. DoD Footage
---
47 Squadron Operations / Losses
1982 - Falkands Conflict
During the conflict, 47 Sqn airlifted supplies to Ascension island and later, air dropped men and supplies directly to British ships in the South Atlantic. To make the trip from Ascension to the Falklands, several Hercules were given additional fuel tanks and fitted with refueling probes. 47 Sqn also prepared to fly the SAS to Argentina for the aborted Operation Mikado
1991- The Gulf War
Aside from regular airlift missions, SF Hercules flew dangerous missions behind Iraqi lines, landing on ad hoc desert air strips to resupply SAS Land Rover columns.
1990s - The Balkans
SF Hercs supported UN and NATO operations in the Balkans, delivering aid to several besieged cities.
June 1999 - during NATO operations in Kosovo, a Sqn 47 Hercules C1, reg number XV298, crashed on take off from Kukes airbase in Albania. The SF Hercules was reportedly carrying a number of SAS troops on an urgent mission to reach Pristina Airport before a column of Russian forces arrived. All aboard survived the crash which was caused by a shifting load in the cargo hold.
2000 - Sierra Leone
47 Squadron hercules flew the SAS and elements of 1 PARA into Sierra Leone
2001 onwards - Afghanistan
47 Squadron were involved in the Afghanistan campaign from the very beginning. They flew members of C Sqn SBS into Bagram airbase, establishing the UK's foothold in the country.
In May of 2006 A SF Hercules operated by 47 Sqn crash-landed on a desert air strip in Helmand Province, Afghanistan. The plane, a Hercules C1, XV206, reportedly hit a mine upon landing and burst into flames. The crew and passengers, which included the British Ambassador to Afghanistan and a number of SBS troops, managed to to escape the fire but the Hercules, 2 SAS 4x4 vehicles and a large quanitiy of cash was destroyed.
In August of 2007 a 47 Sqn C1, XV205, crash-landed at an ad hoc airstrip in Afghanistan whilst supporting a UKSF operation. As it was not possible to repair or recover the plane, all sensitive equipment was removed before Royal Engineers blew it up.
2003 Onwards - Iraq
47 Sqn SF Hercules flights moved UKSF forces into position during the opening stages of the invasion of Iraq. One such mission involved ferrying a M Sqn SBS and their Land Rovers from a base in Jordan to a captured aifield inside Iraq.
In January 2005 a 47 Sqn Hercules was shot down over Iraq whilst supporting the Special Air Service. The Hercules C3, XV179, was reportedly flying low in order to scout out potential landing sites for use as emergency evacuation strips for the SAS forces operating on the ground. The low-flying hercules was hit by enemy fire from the ground which caused a fire to break out onboard which led to structural failure and the eventual crash. Lack of an automatic foam-based fire suppression system, fitted as standard on other country's C-130s, is believed by many to have contributed to the incident. 10 British servicemen died in the incident.
In February of 2007 one of 47 Squadron's C4 aircraft, ZH876, was damaged by an IED as it landed on a remote desert air strip in Maysan province, Iraq. British troops were later to destroy the plane on the ground in order to prevent any sensitive equipment from being compromised. The flight was part of re-supply efforts in support of British operations along the border with Iran.
In August 2017, Hercules C4 #ZH873 was written off following damaged suffered during a heavy landing in Iraq. The aircraft was operating in support of UKSF operations against Islamic State in Iraq and Syria.
2011 - Libya
In February 2011, admist the chaos of a civil war, 47 Sqn executed a number of flights over several days in order to evacuate British and other oil workers trapped at remote oil facilities in the Libyan desert.
---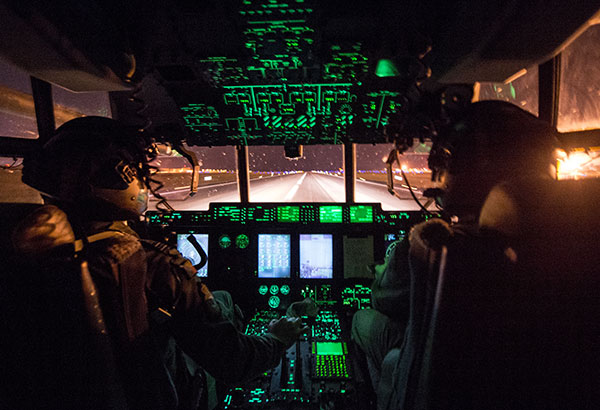 U.S. Air Force photo by Staff Sgt. Matthew Bruch/Released
---