Cockleshell Heroes Memorial Opens
07.11.2012
A memorial to the Royal Marines who took part in a daring raid during World War 2 has been unveiled at the Royal Marines Museum in Southsea. In 1942, 10 Royal Marines, who would later become known as the Cockleshell Heroes, carried out an audacious operation against ships in Bordeaux.
Operation Frankton was launched, nearly 70 years ago, on the evening of December 7th 1942. The Royal Marines team, members of the Royal Marines Boom Patrol Detachment (RMBPD), deployed in 5 2-man canoes from a submarine, HMS Tuna, off the French coast near the mouth of the Gironde estuary in the Bay Of Biscay. Their target was the occupied port of Bordeaux, located some 60 miles up the estuary. The port was a strategically important supply hub supporting the German war effort. The Royal Marines planned to travel up the estuary in their canoes and plant magnetic limpet mines on the hulls of ships berthed at Bordeaux, with the aim of clogging the vital supply artery with sunken ships.
2 canoes were lost to high winds and rough waters on the first night. Of their crews, Corporal George Sheard and Marine David Moffatt died of hypothermia and the remaining 2, Sgt Samuel Wallace and Marine Robert Ewart, made it ashore but were captured and later executed by the Germans.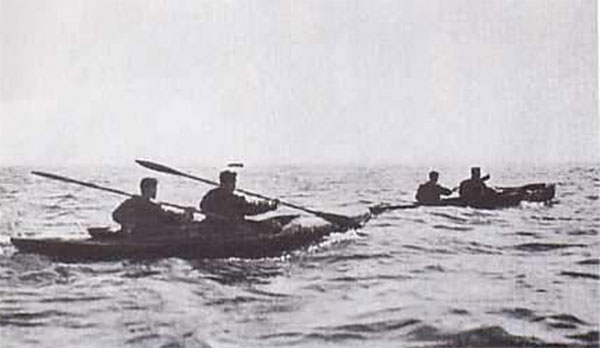 The remaining 3 canoes made their way up the estuary. One 2-man team, comprising of Lieutenant John MacKinnon and Marine James Conway, were discovered while in hiding during the day. They too were executed by their German captors, in accordance with a standing order from Hitler that all captured Allied commandos were to be killed.
5 days after launching from HMS Tuna, the 4 Royal Marines in the 2 remaining canoe teams reached their targets, having dodged numerous enemy patrols along the estuary. The Marines attacked a number of ships, attaching explosives to their hulls, resulting in damage to 6 ships.
The attack completed, 2 canoe crews set off separately for the Spanish border. One crew, Corporal Albert Laver and Marine William Mills, were captured by French Gendarme who handed them over to the Germans for execution. Of the 10-man team that set off from HMS Tuna, only 2 men, Major Herbert Hasler and Marine Bill Sparks, made it back alive.
The Cockleshell Heroes raid was the harbinger of the modern day Special Boat Service (SBS). Lord Ashdown, himself a former officer in the SBS, attended the ceremony that marked the opening of the Cockleshell Heroes memorial.

He said : "The Cockleshell Heroes raid was the founding mission of my own unit in the Special Boat Service but also the first ever raid by the special forces for strategic purposes."
more info / further reading: