UKSF Looking At Little Birds For Olympics
09.01.2012
United Kingdom Special Forces (UKSF) assigned to securing the upcoming Olympic Games are looking at acquiring MH-6 helicopters, it has been reported[1].
The helicopters, known as 'Little Birds' or 'killer eggs' (due to their small size and distinctive spherical bodies) are smaller than any helicopters currently available to the special forces and would be able to land in tight spaces throughout the capital in the event of a terrorist attack.
Authorities fear a Mumbai-style terror attack with multiple groups of gunmen attacking sites in London simultaneously. Trying to deploy SAS/SBS or SCO19 response units via ground vehicles might be slow due to the inevitable traffic jams and general chaos such an event would produce. It has already been reported that security forces will employ high speed boats to transfer response teams along the Thames in order to circumvent traffic.[2] The ideal solution, would be to rapidly insert counter terrorism units by helicopter. While UKSF have a range of helicopters available to them, including Chinooks, Pumas, Lynx and AS365 N3 Dauphins (8 flight), none of these models would be as suited for use in London's narrow streets.
The MH-6 Little Bird is currently operated by U.S. Army special operations unit, the 160th Special Operations Aviation Regiment (160th SOAR), also known as the 'Night Stalkers'. The unit employs the compact and nimble choppers as a gunship (AH-6) and as a troop transporter (MH-6). Up to 6 men can be carried on each helicopter, sitting on purpose-built benches.
The SAS have operated with MH-6s before[3]. During their deployments to Iraq, as part of Task Force Black, SAS operators were occasionally transported by the Night Stalkers, including via Little Birds.
Aside from procuring the helicopters, an obvious issue would be the availability of suitably-trained pilots to fly them. If such aircraft are deployed, they will add to the already formidable security arsenal assigned to The Olympic security mission. Puma and Lynx helicopters, carrying snipers, will be flying patrols across the capital while HMS Ocean will be moored at Greenwich with a Royal Marines assault squadron on board.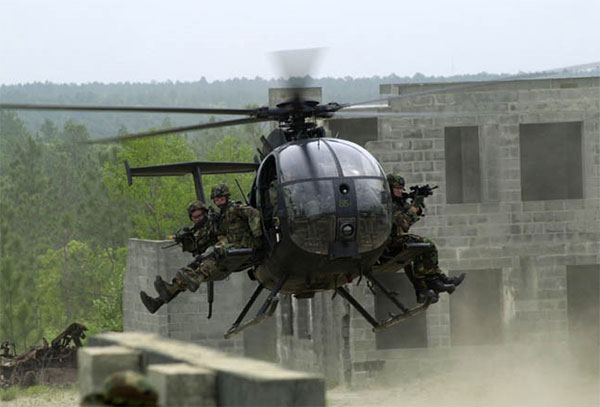 U.S. Army photo
more info, further reading: