UKSF Back In Afghanistan Combat
17.08.2015
British Special Forces have been taking part in regular military operations in Afghanistan, a UK newspaper has reported. [1] Members of the Special Air Service (SAS) and Special Boat Service (SBS) have been working alongside United States and Afghan special operations forces (SOF) in an ongoing campaign against the Taliban and an Islamic State (IS) splinter group.
In October of last year, we reported that a small cadre of United Kingdom Special Forces (UKSF) were to remain in Afghanistan after the withdrawal of regular British forces, which was completed in December 2014 (bar for a small number of military trainers operating at the Qargha Officer Training Academy in Kabul). [2]
It was understood then that the UKSF task force in Afghanistan would focus on counter-terrorism (CT) operations, a remit that includes strikes against the Taliban as well as IS targets. This role would also include training Afghan special forces, as they had done during Operation Herrick. They would also provide force protection for the training team in Kabul and be on-call to rescue any hostages taken by militias throughout the country.
A February 2015 report in the Telegraph revealed that UKSF, along with intelligence officers from MI6, were engaged in a joint US/UK/Afghan CT campaign.[3]
This new report by the Mirror indicates that this campaign has been intensifying. The paper claims that the SAS and SBS are carrying out raids on an almost nightly basis. This sort of tempo has been previously established by UKSF in both Afghanistan and Iraq. Operating as Task Force Black in Iraq, UKSF were part of fast-moving joint UK/US campaign that utilized intelligence gleaned from nightly raids to plan subsequent operations.
The stepping-up of efforts by coalition special forces is a response to a deteriorating security situation in Afghanistan, with insurgents closing in on the capital, Kabul. The rise of an IS-affiliated terror group, which many Taliban troops have joined up with, is also of concern.
It is worth remembering that although the war in Afghanistan is officially over, British troops are still engaged there, risking their lives to defeat terrorism.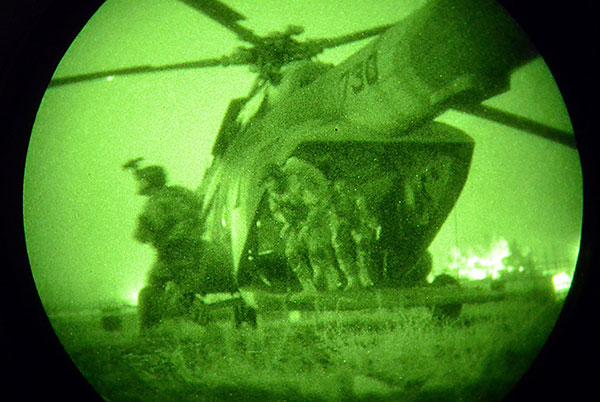 U.S. Army photo by Sgt. 1st Class Michael J. Carden
More info / further reading: