Britain's War in Afghanistan War Ends - But not For Special Forces
27.10.2014
British Special Forces will continue to operate in Afghanistan following the official end of British combat operations in the country.
The last British-controlled base, Camp Bastion, yesterday handed over control to Afghani forces in a ceremony that marked the end of Britain's war in Afghanistan. All remaining British troops are due to leave Camp Bastion within days. RAF fighter jets and armed Reaper drones will stay operational for a short time.
The only regular British forces to remain in Afghanistan will consist of a few hundred soldiers who will provide training to Afghan troops at the Qargha Officer Training Academy outside Kabul.
Several sources indicate that British Special Forces will continue to operate in Afghanistan.[1] [2] Sky News, for example, states that "Special Forces operations will also continue in the country for the foreseeable future."
While it is unclear exactly what role any UKSF remnant will play, earlier reports indicate that their focus will be on counter terrorism.[3] This may entail SAS / SBS detachments, along with supporting elements, working with US teams in a Coalition Joint Special Operations Task Force (CJSOTF). Such a task force may target terror cells operating in the region, carry out hostage rescue missions and gather intelligence.
United Kingdom Special Forces (UKSF) were the first British forces to enter Afghanistan, some 13 years ago. They played a role in the ousting of the Taliban from power and have carried out numerous operations against terrorist and insurgency forces over the course of the war. UKSF have also trained and mentored Afghani special operations units. Those units will now continue the fight against the Taliban without the support of allied forces, the last of which will have completed withdrawal by the end of the year.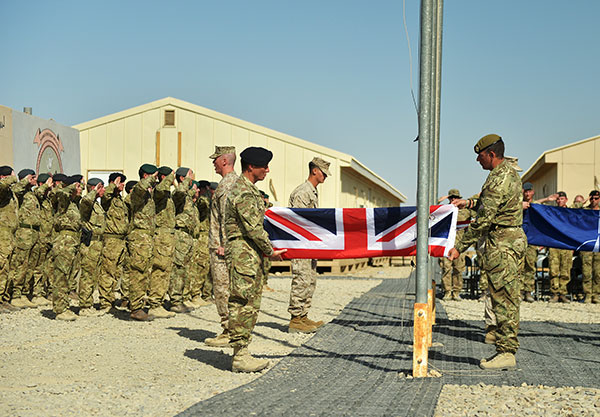 Image by Sergeant Obi Igbo, RLC (Phot) © UK MOD / Crown Copyright 2014 | used under
MOD News Licence
more info / further reading: