UKSf Perish In IRaq Helicopter Crash
21.11.2007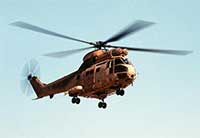 DoD photo by:
SSGT. J.R. RUARK
It has been reported that 2 UKSF operators have been sadly killed and a further 2 injured in a helicopter crash close to Baghdad, Iraq. The RAF Puma came down by Salman Pak on the 20th. The precise cause of the incident has not officially been determined but early reports suggest the helicopter was not shot down by enemy fire. An RAF Board of Inquiry has been sent to Iraq to investigate the cause.
Whilst the MOD have refused to confirm the men's unit, it is believed that they were from the 22nd Special Air Service. The SAS have been operating as part of a joint US/UK task force made up of Special Operations forces with a remit to hunt down Al Qaeda leaders throughout Iraq.
Yesterday's crash is the third Puma accident this year and the second involving UKSF operations in Iraq. In April, 2 Pumas collided when a pilot was blinded by a dust storm that was created when landing. An RAF crewman and a SAS soldier perished in the resulting crash which severely injured several others.
Further reading:
SAS men killed in Iraq as fourth Puma crashes
(Telegraph Report)