SDSR 2015 & The Special Forces
24.11.2015
The British Government has now published the Strategic Defence and Security Review 2015 (SDSR 2015). [1]
The policy paper will shape Britain's military over the coming years. While some elements of the military face cut backs, one of the 'winners' of the spending review are the Special Forces who will be getting more money for new weapons, kit and upgraded support aircraft.
Sections 4.45 and 4.46 deal specifically with the Special Forces:
Our Special Forces undertake the most dangerous and difficult missions to keep us safe. We will more than double our current planned investment in Special Forces equipment to enhance their ability to operate and strike globally in the most hostile environments on their own or with our closest allies, and in particular to enhance their counter-terrorism capabilities.

We will buy advanced communications equipment and weapons, and ensure that our Special Forces can operate covertly around the world. They will have the information they need, including through our investment in advanced high-altitude surveillance aircraft. We will upgrade our helicopters and transport aircraft so that they can deploy further and faster
Other sources indicate that the 'double our current planned investment' amounts to an additional £2 billion in funding.[2]
The 'high altitude surveillance aircraft' referenced is mostly likely the Zephyr 8 drone. The Zephyr is a lightweight solar-powered UAV that flies at very high altitudes and can loiter for months at a time. [3]
Upgrades to helicopters may include the ongoing updates to the Chinook fleet as well as, perhaps, providing Wildcat AH1 helicopters to 657 Squadron AAC, replacing their Lynx AH9A airframes.
Mentioning the C-130J fleet, many of which are dedicated to Special Forces operations, section 4.49 states:
We will upgrade and extend the life of our C130J aircraft, allowing them to support a range of operations until 2030.
This is a change to previous plans to take the C-130Js out of service by 2022. Now 14 will be retained in service. This reversal may be due to the C-130J being deemed more suitable for the Special Forces role than the much larger A400M Atlas previously set to replace it.
What upgrades are planned for the C-130Js are not yet publicly known. 9 of the RAF C-130J fleet (likely ones flown on special operations) were, earlier this year, fitted with external fuel tanks that extend the aircraft's range to around 3,000 nautical miles.[4]
A rewing program to extend the C-130J fleet service life is very likely. An ongoing (but troubled) upgrade program promises to bring a number of C-130Js up to Block 8.1 standard. Block 8.1 improvements include new software and computer systems, new GPS navigation, new Identification Friend or Foe (IFF) Transponder and more.
Scope for other (less likely) upgrades to Special Forces C-130Js include improvments in defensive aids systems, improved / new sensors electro-optical cameras, FLIR, terrain-following radar etc.) and the ability to refuel helicopters in mid-air.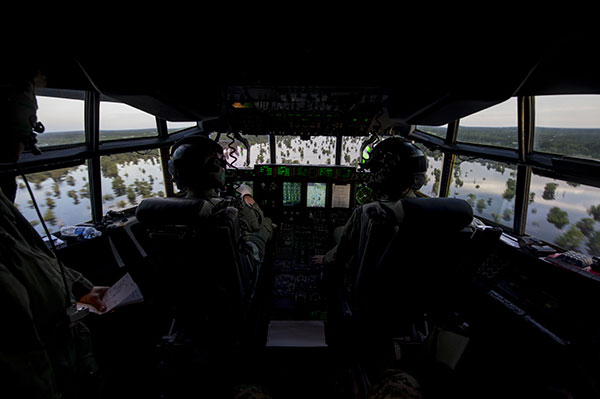 U.S. Air Force photo by Staff Sgt. Matthew Bruch/Released
More info / further reading