RAF Chinook Helicopters
The Boeing Chinook is a heavy-lift helicopter operated by the Royal Air Force (RAF), including 7 Squadron, the unit that specialises in supporting United Kingdom Special Forces (UKSF).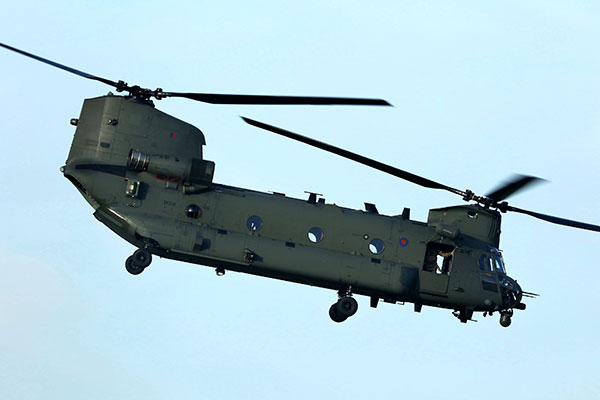 The Chinook has been a workhorse throughout the British deployment to Afghanistan (Operation Herrick). Its ability to ferry over 50 troops at a time and lift 12,700 kg of cargo made it of prime importance to the British war effort in Helmand Province. It was also invaluable in the medical response role, with the Chinook's spacious cabin kitted out as an emergency operating theatre.
Chinook Design Features
The Chinook features a 2-engine tandem-rotor design. A rear ramp allows troops to rapidly load and unload and for vehicles to drive on and off. Commandos may fast-rope from the rear ramp or belly hatch and cabin doorways. Guns - typically M134 miniguns - are mounted at both forward doorways, with a M60 machine gun mounted at the rear. Chinooks feature water-tight and bouyant fuselage bottoms which allow them to 'land' on water and recover SBS inflatable raiding craft via the rear ramp. The Chinook is typically crewed by 4 - 2 pilots and 2 aircrewmen.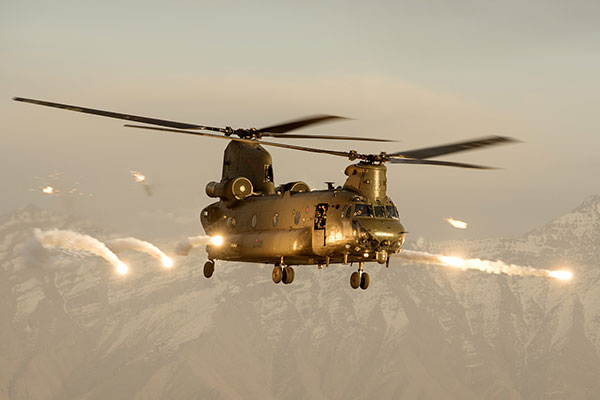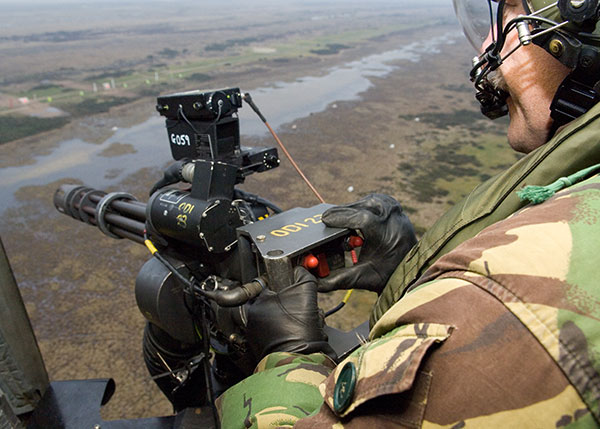 Chinook variants.
The RAF has flown a number of different Chinook helicopters, The first RAF Chinook was the HC1, which entered service in 1980. Variations flown since then include the HC1B, HC2, HC2a and HC3. The current fleet is being upgraded and brand new additional aircraft, HC4, HC5 and HC6 are being brought into service.
Chinook HC4
Current HC2 and HC2A models are being upraded, resulting in HC4 / HC4A aircraft respectively. A number of upgrade programs have been initiated to bring these models up to a common standard. Project Julias upgrades the existing fleet's cockpit and engines, Project Baker improves the defensive aids system (DAS) and Project Benic updates the communications.
Chinooks upgraded via Project Julias feature:[1]
Honeywell T55-714A engines which will provide better performance in high and hot conditions (some HC2a models already had these engines installled)
TopDeck Primary Flight Display (PFD) digital cockpit

4 multi-function displays (MFDs)
2 standby screens which still function in event of main power failure
D-NVG capability - displays critical flight symbology through the pilots's night vision goggles, enabling increased 'heads-out' time
Cockpit Display System/Mission Avionic System
onboard mission planning system
digital moving map display
ground mission support system
mission planning and management software running on tablet computers used by pilots and aircrew

Forward crewman's station features a crash-resistant seat and digital workstation in the form of a mounted tablet computer
Selex ES Titan 385ES-HD FLIR turret

Medium Wave infrared camera
Uncooled Long-wave IR camera
Solid state low light level television (L3TV) camera
Note: 8 HC2/2A Chinooks, including those in 7 Squadron, had previously been fitted with a less than optimal upgrade, called the Night Enhancement Package (NEP). The NEP had installed a FLIR pod, D-NVG capability and a moving map display as a bolt-on upgrade - one that obstructed the view out of the flight deck.
Under Project Baker, the Chinook fleet's defensive aids system (DAS) are upgraded with the fitting of the Selex ES Helicopter Integrated Defensive Aids System (HIDAS)[1]. This features:
AN/AAR-57(V) Common Missile Warning System (CMWS)
Selex Sky Guardian 2000 radar warning receiver
Selex radar frequency jammer
Selex directional infrared countermeasures (DIRCM) (infrared jammer)
Thales Vicon 78 series 455 countermeasures dispensing system (chaff / flare launchers)
Series 1223 laser warning receiver
Project Benic upgrades the Chinook's communications suite. Chinook HC4/4a comms gear includes: [1]
Encrypted Bowman VHF fitment
Thales RA 800M enhanced secure communication control system
beyond-line-of-sight (BLOS) communications capability
7 Squadron were the first to deploy the new Chinooks, operating them in support of the 2012 Olympics security effort. In December of that year, the squadron deployed HC4 airframes to Afghanistan in support of special forces. HC4 Chinooks in other squadrons were first deployed to Helmand Province in 2013. [2]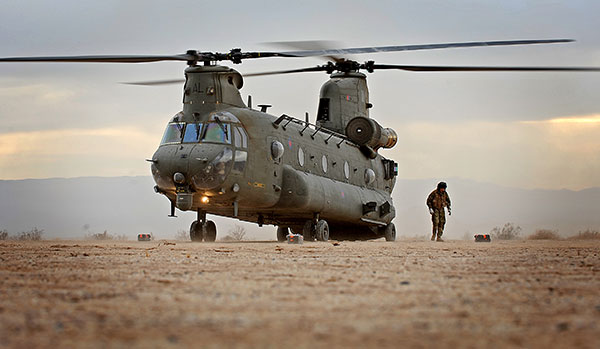 ---
Chinook HC3 / HC5
After much delay and money wasted, the Chinook HC3 fleet is finally on track to deployed to front line squadrons. Initially ordered in 1996 for 7 Squadron, the HC3s were essentially a cut-price version of the MH-47E Chinook used by American Special Operations Forces. Problems with the procurement process meant that the aircraft sat unused in hangars for many years.
Eventually it was decided to downgrade the helicopters and bring them in to service. Gone were the advanced radar and sophisticated digital cockpits, the latter replaced with an analogue equivalent. A feature that was not downgraded was the HC3's enlarged fuel sponsons. The extra fuel capacity provided by these tanks makes the HC3 particularly suitable for long range special operations missions. The HC4 and HC6 birds can extend their range by installing internal fuel bladders but at the cost of a reduced load space. The HC3's larger fuel tanks trade in a slight hover performance downgrade for better range and cargo capacity.
The HC3s have mostly been used for training ops in the UK, freeing up other Chinooks for deployment to Afghanistan.
HC5 upgrades
As with the HC2 and HC2a fleet, the HC3 airframes are being upgraded with TopDeck digital cockpits, secure communications and improved DAS. The resulting helicopters are designated HC5.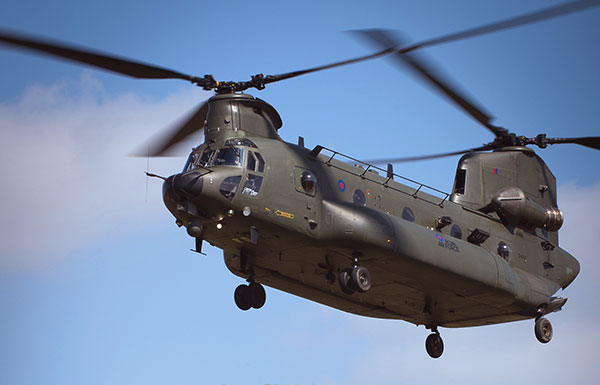 ---
Chinook HC6
In 2011, the MOD ordered 14 new Chinooks from Boeing. Designated HC6, the first entered service in 2014. The HC6 is based on the CH-47F, as flown by the United States military.
The aircraft features a monolithic airframe, cobra fire-suppression system, external rescue hoist and a rotor brake. The British version features a similar digital glass cockpit to the rest of the RAF Chinook fleet. The HC6's avionics included a BAE Systems Digital Advanced Flight Control System (DAFCS). The DAFCS features automatic modes such as auto-hover and auto-descend, which should greatly ease the pilot's workload, especially in 'brown out' landing conditions.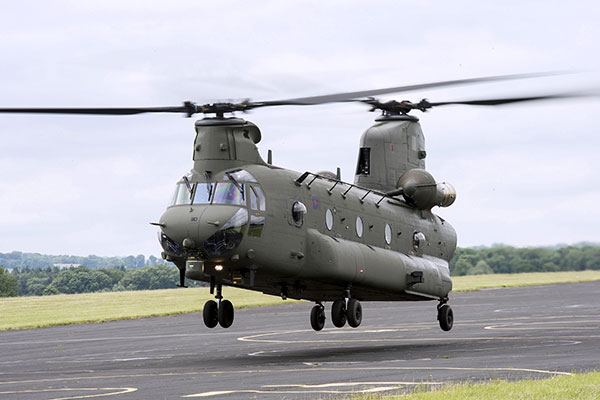 It is understood that the entire 7 Sqn fleet is now made up of the HC6 type.
Note: a £150 million upgrade program is underway to retrofit DAFCS to the HC4 fleet, to be completed by the end of 2018. The resulting helicopters will be redesignated as HC6A.
---
Once all upgrades programs have been completed the RAF's Chinook fleet will consist of 38 HC6A, 8 HC5, and 14 HC6 aircraft, making it the second largest in the world, behind the US Army.