A400M Atlas - Special Operations?
05.01.2016
The Royal Air Force began flying the A400M Atlas began on regular operations in September of last year. With that in mind, perhaps now is a good time to take a look at the aircraft and its capabilities, especially with regards to special operations.
The Airbus A400M Atlas is a tactical airlifter transport plane powered by 4 EPI TP400-D6 turboprops. It has a maximum altitude of 40,000ft, a max speed of 410kts and a max range of 4,700 miles. It can carry up to 32 tonnes of equipment, including large vehicles.
This impressive aircraft was brought in to replace the venerable C-130 Hercules, variants of which have been in RAF service since the 1960s. When compared to the C-130J Hercules, the Atlas can carry more cargo out to a longer range at a faster speed. It is capable of operating from austere landing strips, meaning it can fly direct supply missions rather than dropping off the cargo to a 'hub' airfield for it to be transferred to a smaller aircraft to deliver the cargp locally, which is sometimes the case with the RAF's other airlifter, the C-17.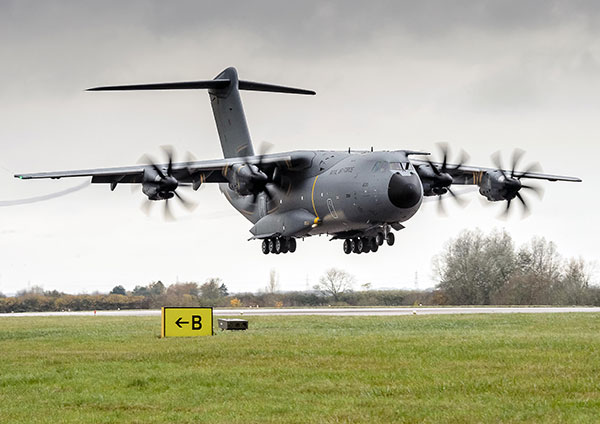 It was initially envisioned that the Atlas would take over every role from the Hercules: global strategic airlift, tactical operations and special operations. These roles can be defined as:
Strategic Airlift - The global, inter-theatre transport of passengers and supplies.


Tactical Operations - Air drop of paratroopers, supplies via the container delivery system (CDS) and heavy drop (large cargo dropped under chutes), low level flight (down to 250ft) in both day and night conditions, landing/take off from austere airstrips.


Special Operations - High altitude parachute ops (HALO / HAHO jumps by SAS, SBS, Pathfinders), boat drop, low level flying (down to 150ft, day and night), submarine and ship rendezvous (dropping men, supplies into the sea) and air landed arming and refuelling (ALARP) for helicopters.
While the RAF is already flying the Atlas on strategic airlift ops and developing the tactical role, there is some question about its special operations capability.
The A400M was set to offer the full spectrum of capabilities by 2022, the planned date for the remaining C-130J aircraft to be retired. A recent announcement, however, has cast doubts on that timetable. It is now understood that a number of Hercules (most likely the 'stretched' C4 variants) will be retained to 2030 for special operations use. [1]
It is thought that the United Kingdom Special Forces (UKSF) directorate pushed for the Hercules to remain in the special forces support role.
Press reports indicate that there is concerns over the suitability of the Atlas in the role, due mainly to its size.[2]The smaller Hercules C4 has a better austere and short airstrip performance meaning the aircraft can get in and out of places denied to the Atlas.
Another issue with the Atlas is simply that it remains something of an unknown quantity. Many of the bugs are still be ironed out, especially with regards to the tactical and special operations roles.
It may be that the aircraft is fully capable of the demanding special operations mission, but at the time decisions had to be made, that capability had not been sufficiently demonstrated. For example, it wasn't until November of last year that Airbus certified it for take off and landing from grass and natural soil landing strips while carrying heavy loads.[3] (video below)
Another ongoing issue with the Atlas stems from the propeller wash produced by its powerful turboprop engines.
When deploying paratroopers via both side doors, the prop wash can channel the jumpers into each other's way, causing their static lines or chutes to get entangled. This issue may be solvable with redesigned static line gear or chutes, but for now the Atlas can only deploy paratroopers from one door at a time.
The A400M's prop wash also makes air-to-air refueling (AAR) of helicopters impossible. Airbus have now classified rotary wing AAR capability for the A400M as a 'research project'. This may not be as big an issue for the RAF as some other militaries, however, as helicopter AAR is not a current UK capability. If it was ever decided to pursue the capability, the MoD would either have to modifiy one of the C-130Js still in RAF service or procure an off-the-shelf solution.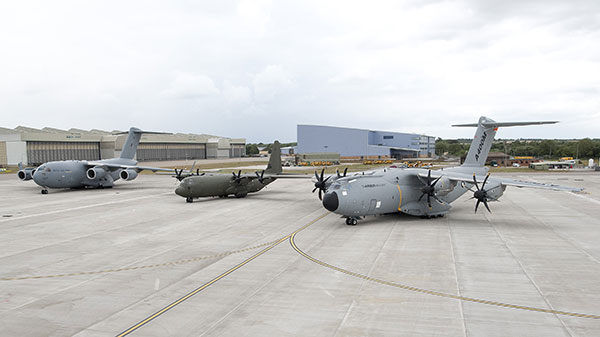 The RAF brass certainly seemed to think the Atlas would eventually be ready for the Special Forces. An article in Janes from early last year, described the training pipeline for Atlas crews. All crews are being trained initially for the strategic airlift mission, the top performers of whom go on to train in the tactical role. The very best tactical flyers will then be selected for the special operations role. [4]
The RAF is set to receive 22 A400Ms up to 2018. As stated earlier, a small number of A400Ms are currently in RAF service. Assigned to 70 Squadron out of RAF Brize Norton, they are flying strategic airlift missions. Currently, 3 further A400Ms are being fitted with defensive aids sub-system (DASS), to enable the tactical role. It is planned to bring the A400M tactical operations capability online by end of 2017.[4,5]

If the training scheme is still intact post SDSR announcement, it may well be that there is a plan to maintain a small cadre of Atlas crews, employed in the tactical role but also trained for special operations. These may be called on to carry out specific special operations where the Atlas's range, speed or cargo capacity may make it the superior or only option.
---
More info / further reading