Crashed Lynx Was From Special Forces Squadron
28.04.2014
The Lynx helicopter that crashed in Afghanistan on the 26th Of April, killing all 5 British servicemen onboard, was part of the Army Air Corps' (AAC) elite 657 Squadron.[1]
Part of the Joint Special Forces Aviation Wing, 657 Squadron flies helicopters in support of United Kingdom Special Forces (UKSF) missions.
The Lynx AH9A helicopter came down in Kandahar's Takhta Pul district, some 30 miles from the border with Pakistan. The helicopter was reportedly on a routine training mission and was not brought down by enemy fire, despite Taliban claims to the contrary. Those killed in the incident were Capt Thomas Clarke, WO2 Spencer Faulkner and Cpl James Walters of the Army Air Corps, Flt Lt Rakesh Chauhan of the Royal Air Force and L/Cpl Oliver Thomas of the Intelligence Corps. An official investigation to determine the cause of the fatal crash has began.
657 Squadron has operated Lynx MK7 - and more recently, MK9a helicopters - in support of SAS and SBS operations in Sierra Leone, Iraq and Afghanistan. They provided close air support during Operation Barras, the UKSF operation to free British soldiers from RUF captors in Sierra Leone. In Iraq, 657 Squadron Lynxes carried SAS/SBS snipers and flew over watch for Task Force Black / Task Force Knight ground raids. Similar support has been provided for the UKSF campaign against Al Qaeda and the Taliban in Afghanistan. One example of the squadron's role can be found in a September 2007 mission in Farah Province, in which it flew Special Boat Service (SBS) commandos into action on a daring hostage rescue mission. [2]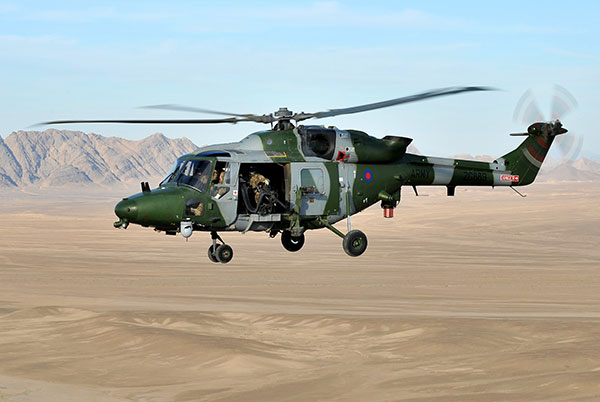 more info / further reading: