SAS Call in Air Strikes At Kobane
28.10.2014
British Special Forces have been defending the besieged Syrian town of Kobane, it has been reported.
Earlier reports revealed that United Kingdom Special Forces (UKSF) had began operating in Iraq and, to a lesser extent, in Syria. It was speculated that their role included intelligence gathering and coordinating air strikes against Islamic State (IS) forces. The Daily Star newspaper has now reported on the latter. [1]
According to the paper, Special Air Service (SAS) Forward Air Controllers (FAC) have played a key role in the defence of Kobane. The Syrian border town is the scene of intense fighting between attacking IS forces and Kurdish defenders.

Kobane, Syria (google earth kmz file)
Operating from hidden positions, SAS FACs have been identifying targets for air strikes by U.S. warplanes. Under SAS guidance, aircraft have struck infantry units and convoys of armoured vehicles moving against Kobane.
The Daily Star quotes one as source as saying:
"The SAS deployed to the area around Kobane a couple of weeks ago and have done themselves proud.

The US pilots think they are absolutely great. They have manoeuvred themselves into some great positions so they can call in air strikes against IS militants.

They have done this at no small risk to themselves. If their positions had been identified by IS they would have been lucky to escape with their lives. "The conditions for the British soldiers have been very testing."
The FAC's role is to direct close air support (CAS) from aircraft, including drones, helicopter gunships, fast jets and bombers. Although modern attack aircraft carry sophisticated sensor packages, there is still no replacement for a well-trained pair of eyes on the ground. In addition to selecting the most effective targets, FACs also reduce the risk of blue-on-blue - i.e. 'friendly fire' - incidents and minimise the risk of civilian casualties. It is common doctrine that the aircraft providing CAS cannot fire any weapons without the direct permission of the FAC on the ground.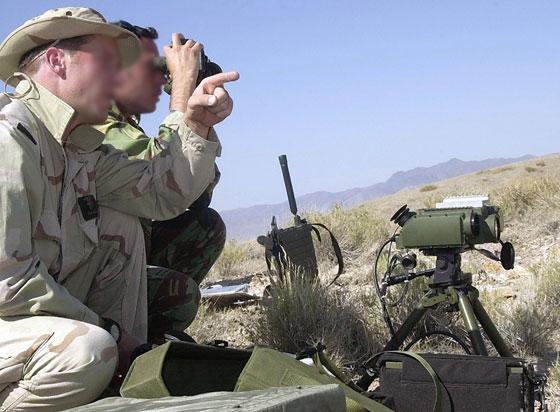 Forward Air Control is a patrol skill learned by several members of an SAS troop. The FAC role requires map reading ability, spatial awareness, situational awareness and the ability to communicate a good deal of information quickly and clearly. The FAC must understand the effectiveness of the various bombs, rockets, missiles and guns available on each CAS platform and be able to pinpoint where and how to employ each one.
UKSF FACs have seen action in both Iraq and Afghanistan. A notable operation involved a Special Boat Service (SBS) FAC and Army Air Corps (AAC) Apache AH1 helicopter teaming up to take out a Taliban commander traveling across the desert on a motorbike. [2]
more info / further reading: