Task Force Crichton
13.12.2009
The Telegraph newspaper has reported on a formation of British special forces, known as Task Force Crichton, and on its activities in Afghanistan. This task force, the Telegraph claims, is poised to join forces with US and Afghani commandos in efforts to take out key elements of the Taliban and al-Qaeda forces operating in Southern Afghanistan and along the border with Pakistan.
It's long been known that a large number of UK Special Forces, spearheaded by the Special Boat Service (SBS), have been operating in Afghanistan. Elements of the Special Reconnaissance Regiment (SRR), Special Forces Support Group (SFSG), 18(UKSF) Signals Regiment and reservists from 23 SAS were also thought to be active in the country. It's also been widely reported that, following the end of their deployment to Iraq, 2 squadrons from 22 SAS were to be redeployed to Afghanistan. As revealed earlier this month by the Prime Minister, the UK special forces group in Afghanistan numbers well into the 500s.
The Telegraph goes on to report that Task Force Crichton has been carrying out a series of successful operations against mid-level Taliban leadership and assets in Helmand Province. One example of a recent, publicised UKSF success is the August attack by SBS, SFSG and Afghan commandos on a Taliban bomb factory.
The Telegraph report highlights the importance of the SFSG, mentioning that : "Over the past three years it has mounted numerous, and increasingly independent, operations in both Afghanistan and Iraq".

One thing that emerges from this latest report is the training that the SFSG has been giving to Afghan forces. When the SFSG was created, one of its stated roles was that of training other forces, a task often performed by the SAS and one which they could now hand off to the SFSG in order to be freed up for direct action operations. This now appears to be happening, with the SFSG training the Afghan Territorial Force (ATF) to fight alongside British troops.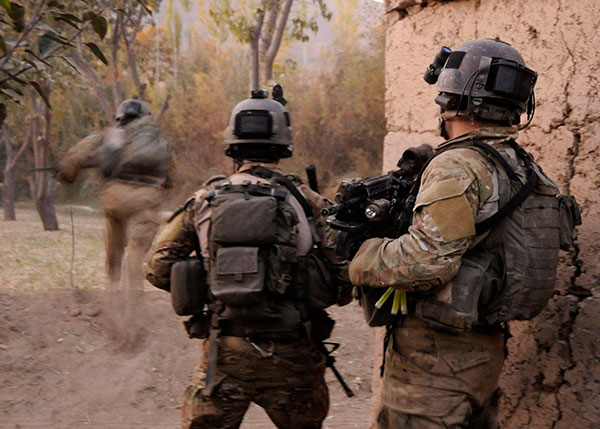 DoD photo by Senior Airman Jonathan Lovelady, U.S. Air Force/Released

Further reading:
Special forces troops open up new front against the Taliban in Helmand
(The Telegraph)